Tyler Perry's Still Big
'I Can Do Bad All By Myself' can do boffo box office too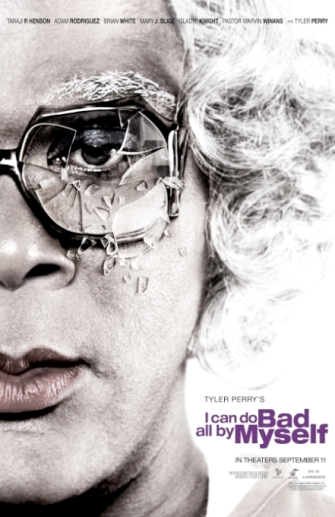 Tyler Perry cleaned up at the box office this weekend and the LA Times, for a moment, ponders his popularity.  They underscore that it doesn't take massive amounts of cash to lure audiences to the theater.
This is true. Instead, a brand, or something comforting for viewers, or a likable, human point of view grabs the attention of the public.  This isn't to say he's making family dramas on the level of Bergman, but he's tapping into a need that hasn't been met on the big screen. Not that Bergman felt needed. He should have but well...perhaps Bergman should have considered cross dressing for a few movies. 
From the LA Times:
"The actor-writer-director's latest effort at the box office, 'I Can Do Bad All by Myself,' was No. 1 this weekend, grossing a studio-estimated $24 million. Perry's movies consistently cost under $20 million to produce and are a steady profit stream for Lions Gate Entertainment.
"'I Can Do Bad' made 37% more than Perry's 'The Family that Preys' on the same weekend last year. And while "Madea Goes to Jail" and "Madea's Family Reunion" remain his two biggest openings since he started making pictures for Lions Gate in early 2006, this weekend's picture is his most successful that didn't feature the popular 'Madea' character front and center."
And here's the top five movies over the weekend:
1. "Tyler Perry's I Can Do Bad All by Myself" (Lions Gate): $24 million opening weekend.
2. "9" (Focus Features): $10.9 million weekend, combined with $4.3 million on Wednesday and Thursday for a $15.3 million five-day start.
3. "Inglourious Basterds" (Weinstein Co./Universal): $6.5 million on its fourth weekend, a drop of 44%. Domestic total: $104.3 million.
4. "All About Steve" (Fox): Declined 48% on its second weekend to $5.8 million, bringing its total U.S. and Canadian ticket sales to $21.8 million.
5. "The Final Destination" (Warner Bros./New Line): Off 56% on its third weekend, grossing
$5.5 million. Total domestic ticket sales for the horror film: $58.3 million.
Read the entire piece here. And how many get the "Straw Dogs" hat tip to the poster? Tyler Perry does Peckinpah. Uh...OK. Interesting...