There Will Be 'Punch-Drunk Love'
Adam Sandler has showcased serious cred before 'Funny People'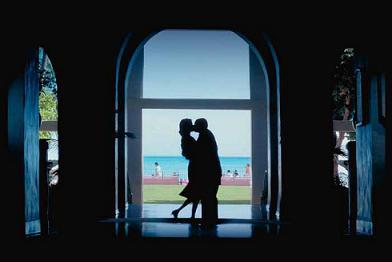 Through the years, I've yet to find another comic star who arouses such disdain as Adam Sandler. Critics, friends, record store clerks, audiences who flock to Johy Sayles movies (I'm generalizing here, but I've been defending him for so long), loathe Adam Sandler. Who else induces such contempt?
Maybe very early Jim Carrey (but by "The Truman Show" and clearly "Eternal Sunshine of the Spotless Mind" he was rightfully embraced) and, of course, Jerry Lewis, who thankfully has finally gotten his due, even outside of France. (In fact, I'm surprised the French haven't taken to Sandler -- they so love explicating our Ugly Americans.) But Sandler -- he's a special case. Think of what many deem him -- lazy, homophobic, frat boy humor, contributing to the dumbing down of cinema, and America --  and though many of his pictures are indeed, lackluster and stupid, the stamp on the comic isn't entirely fair.
He's also capable of sensitive, inspired moments that show unique talent and depth. Those critics and certain Sandler-haters might change their tune with Judd Apatow's newest Sandler defense, "Funny People," and that will bother me. Because Sandler already revealed his abilities in the underrated "Spanglish" (directed by James L. Brooks) and most especially in one of the most romantic movies of the last near ten years --Paul Thomas Anderson's exalting, superb, poetic "Punch-Drunk Love."
"Punch-Drunk Love" -- I was baffled by the picture's lukewarm to mixed reception upon release (in 2002), and wonder why it remains misunderstood to this day. I know that even many Anderson lovers scratched their heads over the movie's lack of epic heft, extra multiple storylines and large scale speeches. (Many did the same with There Will Be Blood, another movie that features a strong central performance and person who seems to polarize people -- the brilliant Daniel Day Lewis). And then there was that Adam Sandler bias -- the knee jerk and unfair question of, why? Why, Happy Gilmore? (And to clarify, I like "Happy Gilmore").

Read my entire piece here.