Let Me Take You To The Movie...'It Might Get Loud'
'It Might Get Loud' is mighty awesome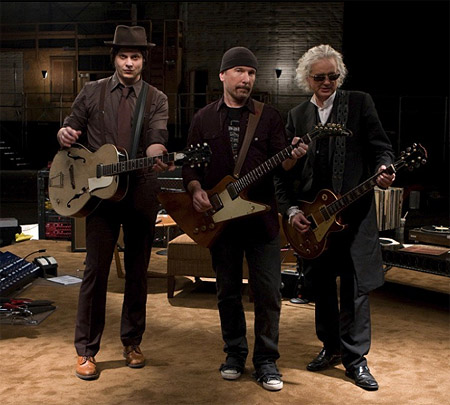 Make sure to read my interview with "It Might Get Loud" director Davis Guggenheim here.
"It Might Get Loud" provided me with one of the most transcendent moments I've seen on film all year -- Jimmy Page listening to his old 45 of Link Wray's "Rumble." Pointing out every brilliant aspect to the legendary song and air guitaring along (Jimmy Page air guitars!) with a beaming smile on his face, it's a pure example of musical bliss. I had goosebumps and (I'm not being hyperbolic) felt happy to be alive.
I will write more about this fantastic documentary (opening August 14) featuring the background and styles of guitarist's The Edge, Jack White and Jimmy Page (and interview director Davis Guggenheim) but for now, enjoy this video piece with Guggenheim, White and Page. And enjoy Staci Layne Wilson's Ventures tee-shirt. She better really like the Ventures (I'm sure she does, her father was a founding member and she seems very cool -- which is why I'm using her interview). Anyway, if she didn't know, I would be even more envious of her being that close to one of my childhood idols, Jimmy Page (can I make your garden grow Mr. Page? Yes, I'm quoting from "Houses of the Holy." Oh my goodness, I'm 15 again...). At any age, however, he remains a genius.