Ape Fatique
Do We Need Another Ape Movie?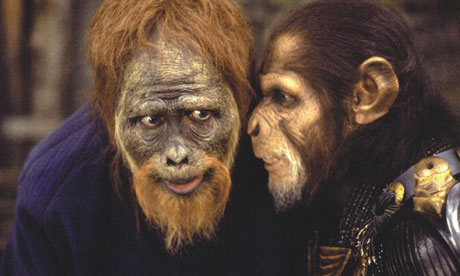 Speaking of those apes and their pesky planet and troublesome uprisings, there's many out there who are not happy with the new apes movie. "Rise Against the Apes" with James Franco in lead, is causing such serious scrutiny, already, that The Guardian runs an a piece asking," "Should we rise up against the Planet of the Apes prequel?"
Here's the start of their story. As for Mark Wahlberg, pretty damn funny. Seriously, this guy needs to make more comedies like he did with "The Happening" (wait...oh, never mind). Anyway, this is pretty
amusing
:
"It was Mark Wahlberg himself who supposedly said, when asked if he would consider starring in a sequel to Tim Burton's remake of Planet of the Apes: 'I'd rather jump out a window.' The 2001 film was a big misfire which watered down the original's nihilism in favour of a misguided Hollywood action tone. Instead of the original's fable-like quality – brought about in part by the rather dodgy (though it was groundbreaking at the time) monkey makeup – we got superb but strangely soulless modern prosthetics.
"Where the original had some intelligent things to say about prejudice, racial stereotyping and our treatment of animals, Burton's version seemed to lose the brainy stuff amidst all the fighting and explosions.
"But at least, we all thought, that was that. The original Planet of the Apes series ran to five films, with increasingly poor returns each time. The 'reimagining' would halt at one. Not so."
Read the entire piece
here
. And what do you think? To ape or not to ape?