First Photos of Freddy!
'A Nightmare On Elm Street' photo released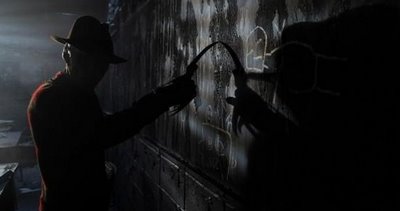 Attention people who are all going to be disapointed by this re-make -- here's the first picture of Jackie Earle Haley as Freddy Krueger. (Thank you Slash Film.) Yes. OK. Count me...it's one picture. And a dark one. Big deal.
What amused me more was how My New Plaid Pants  blogged about it:
"I almost announced 'What a gyp!' here but then I remembered that 'gyp' means 'gypsy' and that's actually a derogatory statement. Shame on you, gypsy-haters! Gypsies make an important contribution to the criminal werewolf-breeding complex."
And then he goes on. Warning, he uses swear words and even more off color terms, so if you're easily offended, just look at my picture here.  And...I'm all for the great Jackie Earle Haley in more movies, but I don't want him to be typecast. And remember, he should be nominated for his inspired performance in "Watchmen." He wont' be, but he should.