New Favorite Writer Alert!
Staci Layne Wilson rules...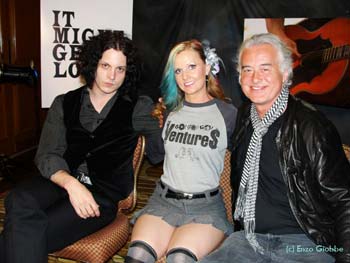 Yesterday I posted a video interview Staci Layne Wilson conducted with Jimmy Page, Jack White and Davis Guggenheim for "It Might Get Loud" because I was intrigued and impressed with her.
Well, she's given me further reason. Not only for her great site (nicely put together, I might add) but also for writing about the experience of this particular interview.
Sayeth Staci:
"When I was about 14, I wore a Led Zeppelin tee-shirt with the Swan Song logo boldly emblazoned across the front to my dad's band's concert (my pop is Don Wilson, the sole-surviving and still-playing founding member of The Ventures) and he griped about it as only a parent can chide a child. He wasn't serious. (Well, not too serious.) Now, all these years later, I can finally make it up to dear daddy: I wore a Ventures tee-shirt to my Jimmy Page interview.
"Yesterday, in the town of tinsel at a swanky Beverly Hills hotel where we So Cal natives barely blink twice at a Tom Cruise or Angelina Jolie sighting, bona fide rock royalty and an Oscar-winning documentarian were commanding a lot of attention for their feature film, 'It Might Get Loud.'"
Read the rest of her piece here. And continue reading this terrific writer. And, here's to the real-deal rock girls! The world needs more of them!