Happy Birthday To The Late Great Kate
Looking at Katharine Hepburn's style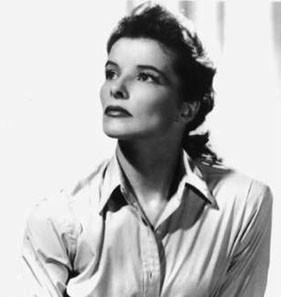 Speaking of glamour. Real Hollywood glamour as well as real Hollywood talent, today is the glorious Katharine Hepburn's birthday (she was born in 1907 and passed away in 2003 -- a long, eventful life).
There's much to discuss regarding her acting talent, but since I'm on the subject of style -- she was a one-of-a-kind.
When it comes to Katharine Hepburn's style, it's almost hard to pinpoint a specific movie -- she was so defiantly individual. So revolutionary was Kate that as the story goes, when RKO heads forced her to wear a skirt, she strolled around the studio lot in her underwear until they returned her beloved slacks. "Stockings are the invention of the devil," Hepburn once stated.
As the dizzy, madcap rich girl ensnaring Cary Grant in the classic screwball Bringing Up Baby, Kate almost sneaks her pants into the film via a nifty pantsuit while discussing her new leopard. It was perhaps "safer" for her to flaunt more feminine togs in this manner but the image is one indelibly linked to the screen legend and an early look at her then scandalous affinity for menswear as seen on full display in Woman of the Year. As Calvin Klein said of Kate in 1986,  she "prompted generations of fashion designers to capture her vitality and spirit."  And I can't give her anything but love, baby.