The Who And What Of Comic-Com
John Horn breaks down the 2009 fest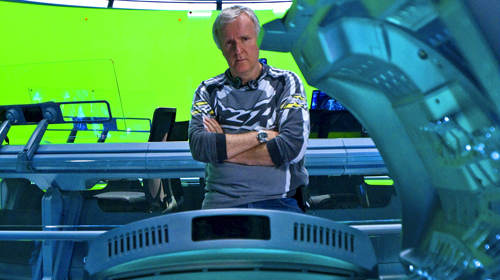 Comic-Con gets bigger every year. So much so, that it's hard to take what was once a little comic book convention for die-hard nerds, as...well,  a comic book convention for die hard nerds. It plays like a promo-film festival, Cannes by way of comics -- comics that often merely feel like graphic novels but aren't ("Twilight" and "Alice in Wonderland" are not comic books, in case you were wondering).
With that, it's either easier or tougher to write a final wrap up to the fest. There's obvious stand-outs, like the teenage rampage of "Twilight: New Moon" and the 25 minute sneak peek of James Cameron's "Avatar" (which is getting terrific buzz online). But what else? We wonder. Thankfully, the LA Times John Horn writes a very rational piece on just that:
"Many provocative questions arose at Comic-Con International this year. Why was Spider-Man playing drums in the Lego Rock Band booth? Was that dog-eared copy of "The Vault of Horror" really worth $5,400? And who in the world was that guy clanging through downtown on a sweaty summer evening in a full suit of chain-mail armor?
"As interesting as those topics might be, the more important query for Hollywood is this: Which movies (and, to a growing extent, television shows) benefited the most from their visits to the mammoth pop-culture carnival that folded up tents Sunday night, and which ones left San Diego the worse for wear?
"Comic-Con unquestionably represents a critical testing ground for mass-appeal movies, particularly those playing to fantasy fiction enthusiasts. 'It all started here,' Jon Favreau, director of "Iron Man," said of 2006's Comic-Con launch of his first superhero blockbuster while he was previewing footage Saturday for next summer's sequel to an ardent crowd. 'Nobody cared before you did.'
"Like at any film festival, the Comic-Con crowd can be so grateful to see footage from even the most minor movie that it's possible to leave San Diego with a false impression of how well a movie played. But after spending more than a few hours in the convention's 6,500-seat Hall H, it became obvious which presentations fared better than others.
"Here's a report on not only which projects performed well, but also which gained the most (or fell) from their previous standing, along with some observations about the ever-evolving Comic-Con culture and lifestyle"
Read that report here. And be thankful someone else can do it for you.