Twilight Talks!
MSN's James Rocchi talks to the cast of 'Twilight: New Moon' at Comic-Con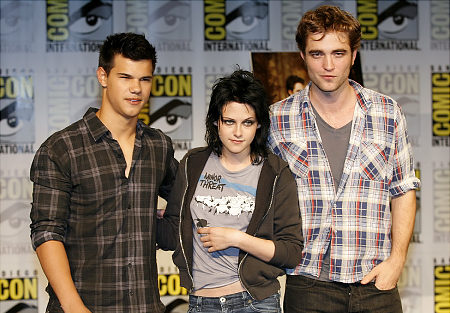 Early on the first day of Comic-Con, the press assembles at 9:30 a.m. -- entirely too early, you'd think. But the fact is that Summit Entertainment, the studio behind "The Twilight Saga: New Moon" press conference, could have scheduled it at 4 a.m. and still had a raft of reporters arrive, bleary-eyed, to cover one of the biggest pop culture phenomena in years. After a brief introduction, the reasons we're all here arrive, and the stars of "New Moon" file in to take their seats. First is Kristen Stewart, looking especially rock 'n' roll with her hair dyed black, and clad in a Minor Threat T-shirt. Taylor Lautner and Rob Pattinson have a grunge look, ambling in wearing checkered shirts; perhaps that Pacific Northwest filming is rubbing off in their fashion choices.
Read the interview here.