The Brilliance Of 'Bronson'
'Bronson' rave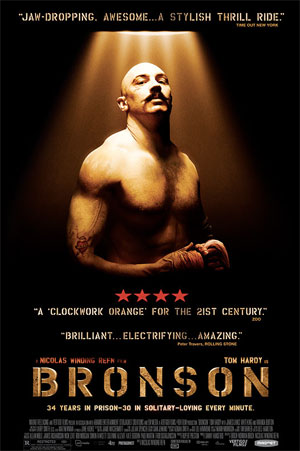 When it comes to a rave for Nicolas Winding Refn's "Bronson" The Playlist blog is not messing around. I love their enthusiastic write-up and I now cannot wait to see this movie:
"Theatrically expressive, mordantly operatic and with lots of deliciously absurdist and loonyKubrick-like moments (a mix of the austere '2001' palette and framing with the chaos of "Clockwork Orange"), "Bronson," is hysterical, brutal and awe-inspiring. It's an audacious and bold picture you must see and it's great to see filmmaking of this caliber that's stylish, yet doesn't live by any tricks or conceits.
"The tag line is '34 Years In Prison - 30 In Solitary - Loving Every Minute,' and that pretty much nails it. The movie is, in many ways, a picture about identity or a lack thereof and about a batsh** madman who feels more at home in prison and being beat silly than he does anywhere on earth. The film is the true story of notorious British prisoner Michael Peterson (played with ruthless wonderful abandon by Tom Hardy) who was jailed on seven year stint for arm robbery. But instead of quietly doing his time, Peterson (who dubbed himself Charlie Bronson) went psychotic and found his calling in prison as wild shit-disturber with a sado-masochistic need for ritualistic weekly beatings which led to a 34-year in jail which is still going."
Read the entire piece here.