Hello 'Bruno'
'Bruno' hits theaters, splits critics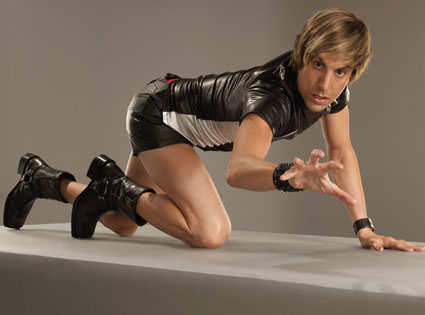 Today doesn't feel like Friday. It feels like "Brüno"-day. Yes, other pictures are opening, potentially fine films like,  "I Love You, Beth Cooper," "Humpday," "Soul Power" and "Blood: The Last Vampire" (there is no such thing as the last vampire by the way, don't we all know this?), but the name on everyone's lips (or lisp, if you want to make an easy, stereotypical joke and apologies that I just did) is that of the obnoxious Austrian fashion designer, la Brüno.
And my lord that trouble-maker (Sacha Baron Cohen in real life, lest you didn't know) is getting some seriously mixed reviews. Unlike his last quasi-documentary comedy "Borat," which mostly received raves, "Brüno" is not a critical slam dunk, and in some camps, downright offensive. Which, of course, makes it all the more interesting to me. To many critics, Brüno feels tired, an easy shock routine, another candid camera style assault, something that could be subtitled: "When Flaming Gay Fashionistas Attack!" To others, "Bruno" feels even  more biting and astute that "Borat" -- especially since it goes after something perhaps more deserving of disdain than polite Southerners and drunken frat-boys -- vanity and delusional fame seekers.
With results compared to the ground-breaking work of comedians like Richard Pryor or Lenny Bruce (or Howard Stern, for good and for bad), satirist Baron Cohen (and director Larry Charles), once again runs around America (and other parts of the globe), smoking out homo-phobes and fame-whores causing people's emotions to range from intrigued (such as a homosexual de-programmer), to embarrassed (like presidential candidate Ron Paul), to enraged (an entire audience). 
But is discomfort relevant? Yes and no. Watching people squirm often reveals darker aspects to their character  but then it can also show (as in "Borat") how politeness can simply go overboard. Is that a bad thing? Or is Baron Cohen unfair ambushing people with outrageous behavour? And doesn't Richard Simmons bring this out in people every time he steps on the set of David Letterman (seriously, Richard Simmons should be getting more credit in showing even a liberal person's tolerance for flaming flamboyance).
With that, one can read all the critics they want regarding this picture (and here's a nice round-up at MetaCritic), but if you're a fan of comedy, and especially a fan of Baron Cohen, you'll just have to decide for yourself.