Revival House: 'Bigger Than Life'
Nicholas Ray's classic needs to find its way to DVD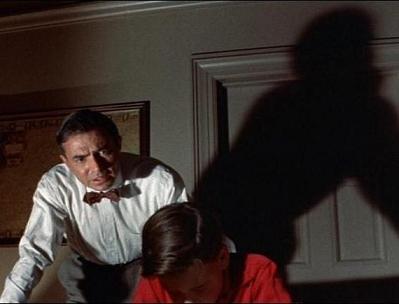 Thanks to an email from my friend Matthew Kiernan, I don't have to ask this question anymore: Why oh why is Nicholas Ray's "Bigger than Life" not on DVD? Finally! It's getting the Criterion treatment next year.
A movie that never even found its way to VHS either, "Bigger than Life" is one Ray's most interesting, sociologically damning and in a word, craziest pictures. It also boasts one of cinema's most horrifying fathers, James Mason's Ed Avery. It's Sirk by way of "The Shining" -- a good thing.
A picture perfect 1950's schoolteacher at first, his personality changes drastically after discovering he's suffering from a potentially fatal illness. He becomes a guinea pig to the new drug cortisone and essentially, loses his marbles. Like many drugs, it's wonderful at first -- he feels better -- but the side effects are worse than anything you'll hear listed during a Lipitor, Zoloft or Wellbutrin commercial. It's not that he loses his sex drive (though that's not addressed in the picture) no, he turns into a megalomaniacal psychopath with murder on his mind -- chiefly the murder of his little son.
Shot in bold, brilliant color and beautifully composed (the shots of Mason lording over his son in shadow are especially powerful), the father-as-God story is horrifying but in the end, incredibly sad.  A terrifically dark explication of the cookie cutter 1950's family (was anyone really that perfect little cookie? Of course not.) and an interesting early indictment on prescription drugs, the picture was not surprisingly, a massive flop upon release. The whole daddy's gonna kill you aspect was more than likely tough going for audiences taking in those glorious Technicolor frames. And that line: "God was wrong!" it sticks with you forever.
I've seen the picture at film festivals, revival houses and it pops up frequently on the Fox Movie Channel, but if you ever have a chance to watch Ray's masterwork, writ-large, run, don't walk to the cinema. It's a mind bending, psycho, splendiferous experience.