Hollywood Hellfire
'Hollywood's Hellfire Club' is a must read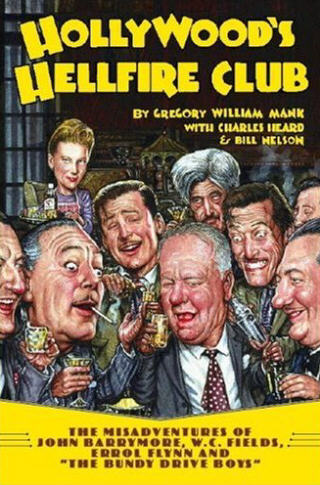 This is a great, ribald, exciting book and a must read for anyone interested in Hollywood history, world class wit, and gin-soaked nights of debauchery. Or at the very least, some amazing conversations.
The book? "Hollywood's Hellfire Club: The Misadventures of John Barrymore, W.C. Fields, Errol Flynn & 'The Bundy Drive Boys'" (Feral House, tpb, $22.95).
Bundy Drive is the street where these icons would all congregate, in case you were wondering. And as an LA resident, oh how I wish these men were still haunting that area.
Though the book came out a few years ago, it should not be forgotten. And the Entertainment Universe agrees with me. They write up a nice piece on the scintillating tome:
"We've now bought and read it—and beyond its charming, dissolute Drew Friedman cover, it's a joyful, wild party of a book, examining the alcohol-soaked misadventures of a coterie of hard-living actors and others in Hollywood's 1930s and '40s glory days.
"In addition to those famed constant drinkers Barrymore, Fields and Flynn, the loose-knit HELLFIRE group included genre great John Carradine, TOPPER's Roland Young, character actor star Thomas Mitchell (STAGECOACH, GONE WITH THE WIND), British thespian Alan Mowbray (the touring Shakespearean of MY DARLING CLEMENTINE), young Anthony Quinn, eccentric artist Sadakichi Hartmann and writers Ben Hecht and Gene Fowler.
"Near the tail end of the group's existence, Vincent Price was also an ad hoc member. They all sort-of orbited central figure John Decker, a talented painter with a great skill at mimicking noted artists' styles (and therefore a possible second career producing and selling classic forgeries). Decker's Bundy Drive home played unofficial headquarters to this merry band of rogues, rakes and roisterers."
Read the rest of the piece here. And treat yourself to a drink. A lot of drinks.