Mean Marty
'Shutter Island' brings this writer to earlier Marty movies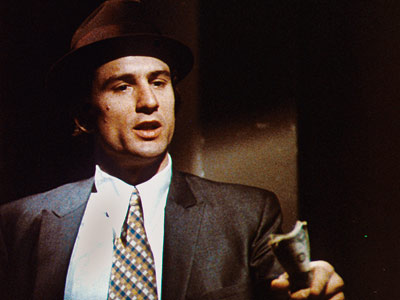 Watching the trailer for Martin Scorsese's "Shutter Island," I've had the director, one of my favorite directors, on the brain. Though I'm not sure what to make of "Shutter Island" (and why should I? It's simply a trailer), I've found myself in Marty memories, re-watching his earlier movies, marveling at how masterful many of them are.
But the one I don't think gets enough credit is one of his earliest - "Mean Streets" -- a movie that on certain days, ranks in my all time top ten.
Here's what I wrote about it on Sunset Gun:
"As Woody Allen would say, I don't just love the movie, I luurve it. And with further reflection, I thought the picture, of late anyway, just doesn't get its due anymore. Do we take it for granted? We shouldn't. It's absolutely perfect.
"Let's just start with the opening -- an opening that ranks as one of the greatest title sequences of all time.  The screen is black. A faceless narrator exclaims: "You don't make up for your sins at church; you do it in the streets; you do it at home. The rest is bullsh**, and you know it." A young man wakes up in the middle of the night. The sounds of the city are outside. He walks over to his bedroom mirror, takes a look at himself and then returns to bed. As his head reclines toward his pillow, he is suddenly moving in slow motion. The thumping beat of the Ronettes' 'Be My Baby' begins and the scene shifts to a screening of Super-8 films of the young man and his friends. Just as Ronnie Spector breaks into the beautifully sweet chorus of 'Be my, be my baby,' the film reveals its title in plain, typewritten letters: 'Mean Streets.'
"Yes. This opening always gets me right in the gut and mysteriously both the hard and soft places of my heart. It even, at times, almost makes me cry. No, not almost. It does make me cry. It's just so raggedly lovely and wonderfully bittersweet and beautiful and tough and tender. It's reminiscent of a past that isn't entirely mine and yet, Scorsese makes me feel like it was -- almost one hundred percent. It gets me the way Wes Anderson gets me when Margot walks off that bus to Nico's 'These Days' or Harold drives his car to Cat Stevens' 'Trouble' or Benjamin Braddock depressively swims and fornicates to Simon and Garfunkle's 'April Come She Will' or Sam Rothstein falls for Ginger to 'Love is Strange' (I could list more than a dozen Scorsese music moments that touch me in multiple ways). 
Read my entire "Mean Streets" essay here.