Movie Poster Posing
8 Misleading Movie Posters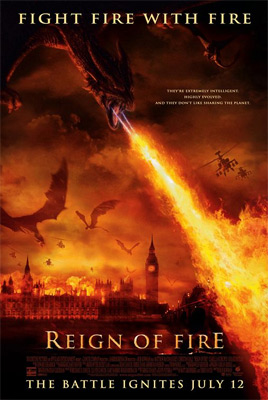 This post really should become a series and maybe I'll take a stab at it because sometimes, nothing is more entertaining than deconstructing a movie poster. Honestly, nothing. No beautiful trip to Hawaii or some thrilling ride on a rollercoaster or finally getting the Snoopy Snow Cone machine to work. Empire Online knows the secret.
Here's one from their "Blatantly Misleading Poster Art" piece, "Reign of Fire":

"Stop for a minute and have another look at this poster. Just how good does this film look? It's got massive dragons and swarms of helicopter gunships and they're all having a huge battle over the Houses of Parliament. Just think of the expenses claims. But does any of this happen in the film? No. Were we happy about it? No. 'Reign Of Fire' one joins 'The Dark Knight's' flaming Bat-building in the file of 'cool looking poster stuff that should have happened in the movie but didn't'."
Read the rest here.  And again, there could be so much more. Let's put our thinking caps on...