Revival House: 'Golddiggers of 1933'
Money through the mad genius of Busby Berkely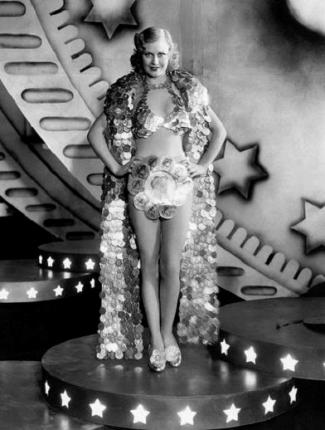 Feeling poor? Bearing the weight of this terrible economic crisis the entire country has found itself in? Worried about food, clothes, your house, your job, all of it? Then think of how it felt during the Great Depression. (My lord, aside from bread lines it was almost as bad.) But again, think of how it felt, and do yourself a favor, watch a musical. A good musical.
For me it's classic musicals, and Busby Berkely especially. I can never get enough of this sexy, subversive picture. Though 1930's Warner Brothers is renown for social dramas like "I Am a Fugitive from a Chain Gang" or the brilliant "Wild Boys of the Road" (you must track this down in the Forbidden Hollywood box set -- an under-seen masterpiece) and classic gangster films like Little Caesar with Edward G. Robinson and "Public Enemy" with James Cagney, they also provided some of cinema's greatest musicals. My favorite being "Gold Diggers of 1933," directed by "Fugitive" helmer, Mervyn LeRoy and more importantly, choreographed by that mad genius, surrealistic artist Busby Berkeley.
With a take on what Americans love most -- money -- the film showcases a bizarre-o number of the famed song "We're in the Money" wherein a comely Ginger Rogers sings it in both English AND Pig Latin. (My God, how I love Ginger -- "The Major and the Minor" alone). Amazing for its ability to be light fluff, fantastically inventive in terms of set design and costuming and seriously relevant (particuarly regarding The Great Depression and men returning from War time),  "Goldiggers" proves that musicals aren't mere escapism. And by the time Joan Blondell ends the film with the haunting "Remember My Forgotten Man," in which soldiers from World War I are shown in bread lines, you'll again remember that even the oldest of musicals had something to say. Absolutely sublime.