Take A Look At 'It'
12 Minutes of Michael Jackson from 'This Is It'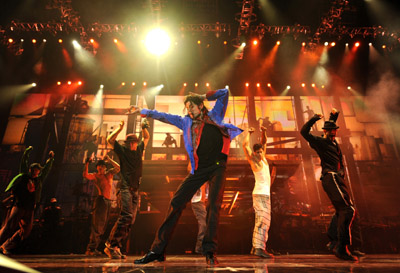 Michael Jackson. As both a fan, and a proud contributor to his upcoming book, "The Official Michael Jackson Opus" (a must for every fan -- it's a beautiful career anthology -- Michael himself helped create it) I'm obsessed with anything MJ these days.
So I'm excited to see "This Is It" -- even if it does make me incredibly sad, it so far appears to be a wonderful celebration of Michael.
More to read and watch here.
"A 12-minute clip of the new Michael Jackson movie "This Is It" shows a strong-voiced King of Pop enthusiastically practicing some of his biggest hits.
"Jackson is shown warming up his vocals during a performance of 'Human Nature.' That's followed by Jackson running through the song in various outfits.
"Later, he playfully dances with a woman as he sings "The Way You Make Me Feel," touching her thigh and holding her waist."