Banned Movies
Controversial Classics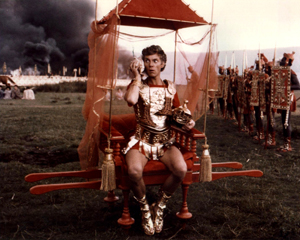 I enjoy these guides, or lists, or internet fillers, and I love reading anything about controversial films, but sometimes they can be soooo dry. Like I'm scanning the quickest entry in the Videohound Golden Movie Retriever. Remember those books? I can't believe I suddenly became nostalgic for having to grab that huge paberback to find out who directed "Alligator" (Lewis Teague, so you know, written by John Sayles, for your information).
Anyway, this banned movies list from The Independent is informative but it lacks, how do you say? Ze punch? 
Take "Caligula" (released in 1979 and banned in Canada and Iceland), per esempio:
"The story of Roman Emperor Caligula who used violent means to get to the throne, his shocking actions during his tyrannical reign and his subsequent descent into insanity. The film was considered controversial not only for its depiction of violence, but also for the gratuitous nudity and Caligula's sexual passion for his sister."
Well OK. We got the rundown and we got the nasty bits. Part of me thinks, if the editor forced the writer to draft something pithy, this might be cringe inducing (All play and no work made Caligula a daffy, dirty boy! Oh behave!) but jeez, the other part of me thinks, can we have a pulse please? Still, the piece inspired major reader comments, so throwing these pictures out there for the public to squabble over is part of the point. But I can't scan through those comments. There's absolutely nothing about Lindsay Lohan in any of them!
Here's the entire list. It's interesting information.