Lego, The Movie
Toys are so hot that Lego is linking on the action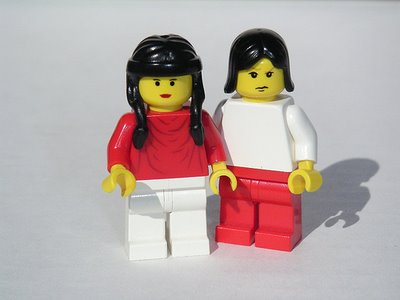 OK, OK. That's it. The Lego movie?
Yes indeed. Toy nostalgia has risen so much that studios are jumping on any idea for the feature length saga of, oh, say Strawberry Shortcake (which wouldn't be so bad -- especially in John Waters Smell-O-Vision).
So, unlike most oldsters decrying the lack of real, great, '70s style, soulful cinema (but then sit with their arms crossed, bored during  Billy Ray's underrated "Breach," Coppola's gorgeous "Tetro," and Lars Von Trier's brilliant "Antichrist") I'm not against the toy ideas entirely. As long as the movies are good (which they usually are not, but call me a delusional optimist), or potentially, perhaps accidentally surrealistic (see Bay, Michael and my piece on "Transformers: Revenge of the Fallen").
Here's news from Variety about the Cine-Toy craze and the Lego movie:
"Decision to move forward with a Lego movie comes as 'G.I. Joe' opened in the top spot at the box office this weekend for Paramount, which also scored this summer with 'Transformers: Revenge of the Fallen,' both based on Hasbro action figures.
"It also follows a slew of deals that Hasbro and rival Mattel have recently brokered around town to turn their most popular toys into movies, including 'Monopoly,' 'Candyland,' 'Battleship,' 'Stretch Armstrong,' 'View-Master,' 'Max Steel,' 'Hot Wheels' and 'He-Man and the Masters of the Universe.'"
"View-Master"? Unless Michel Gondry jumps on that one, I'm not so sure. And wasn't "He-Man" already a movie? I believe I saw that in the drive-in as a kid.
Alright, I'm throwing one out there -- "Easy Bake Oven: The Motion Picture." I have soooo many stories about that thing. And for now, which goes nicely with my earlier post on Jack White, here's a great Lego movie -- The White Stripes' "Fell in Love with a Girl." (Thanks to the blog Lego is Fun for the image).