A Bad Body?
'Cinematical' not so mad over 'Jennifer's Body'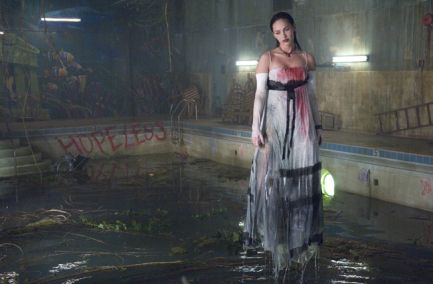 Though the Academy decided to round up their Best Motion Picture nominations to ten this year (what will happen to the musical numbers now, Oscar? And with Hugh Jackman there again?) I'm going to show some brilliant signs of prescience to say, "Jennifer's Body" will not be among the extra movies nominated.
I know, even the most rabid "Juno" fan just rolled their eyes and said, ya think?  I would add a little Ellen Page meets Dennis Miller cha-cha-cha humor here, but "Juno" jokes are kind of stale these days, homeslice. Oops.
Anyway, Cinematical had some harsh words for the Megan-Fox-starring, Dibalo-Cody-scribing horror/comedy/teen drama/something.
Todd Gilchrist wrote:
"Jennifer's Body substitutes hipster credibility for emotional currency, confuses pop-psychology insight with substantive social commentary, and measures terror on a scale that ranges from the word boo to a dead spider."
Read the entire review here.