Maestro!
Thoughts on Ennio Morricone before his cancelled concert...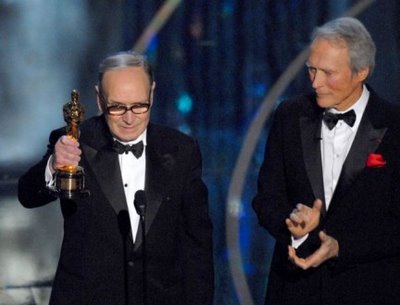 "When I think of Morricone, more than his using a specific instrument or a specific sound, it's his way of approaching music that sticks out. He would take nontraditional, nonorchestral sounds and combine them in a musical way and create new, sonic templates from found sounds, whether it's the reverb of an amp or the ticking of a clock or human whistling. It was an entirely new approach.
"He's definitely influenced our whole business in maybe even more subtle, unconscious ways. The notion of sampling and recording and manipulating sounds, which so many composers do now, can be attributed to what he does. I think also his gift for simplicity, keeping things as simple as possible to have the maximum effect. And melody.
"A lot of his music is classic and recognized not just by film-music fans but by the general public at large and I think one of the reasons it transcends the film barrier is the fact that he's able to approach music in a new way and say something new. I think it's already made its mark and it's not something that will be forgotten."
-- Marco Beltrami, Academy Award nominee for his "3:10 to Yuma" score, also composer "Knowing" and Kathryn Bigelow's "The Hurt Locker."
More thoughts on Morricone from movie and music makers, including Mark Mothersbaugh and Barry Levinson at the LA Weekly, which ran a big story on the man before his concert was cancelled. Maybe more people will regret not buying tickets?