The Final Girl Word On Comic-Con
Stacie Ponder, get thee to Comic-Con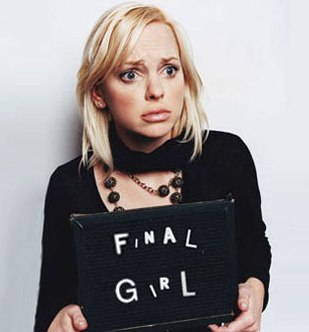 One of my favorite bloggers in the whole wide world, Final Girl's Stacie Ponder, the only woman I know who would understand how thrilling it is that I just, right now happened upon the movie "Six Pack" on this here TeeVee (it stars Kenny Rogers, a young Diane Lane and a very young Anthony Michael Hall. Do I need to discuss its merits any further?) ... well, Stacie is almost at Comic-Con. Or maybe she finally made it. I hope.
According to her last post, she's having some motivational problems getting out of her house to attend the Cannes Film Festival for the sexually challenged (oh...that was a low blow. I bet there's a lot more hanky panky going on there than we even know...see Wonder Woman costume a few blog posts below).
Anyway, Stacie, as Kenny would say, get yer big city butt down there. They love and need your kind of good folk in those parts. And I want to hear your dispatches more than anyone elses.
And thanks for the tip on "Orphan" (which opens Friday). If Stacie says it's good, it's good.
Now get on down there Stacie Jo!