'Machete' The Movie
Robert Rodriguez's 'Machete' and its possible all-star cast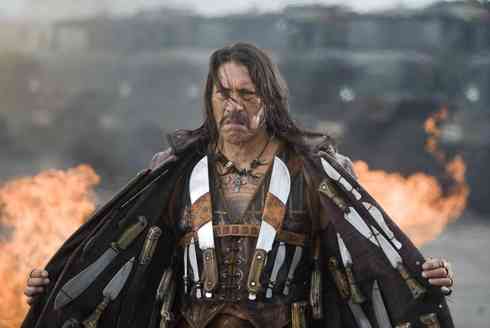 Could this be true?
According to The Playlist and Bloody Disgusting, the glorious faux trailer from "Grindhouse," of Robert Rodriguez's "Machete" (starring Danny Trejo) will be turned into a feature length film (which we've been hearing about for quite some time) and quite possibly with this cast: Robert DeNiro, Jonah Hill, Steven Segal and Michelle Rodriguez.
From the Playlist: 
"No deals are formalized yet and actors are in discussions, but you never really know with these things until the dotted line is signed. Though Hill is said to be playing a young, Cholo, lol. A few other well-known actors are in talks too (some from the 'Spy Kids' movies), but there's no real point in discussing them here until something concrete happens. But it appears Rodriguez has one-upped Stallone a little bit: Steven Seagal is essentially set-up to appear in this as well (and we hear that if one of these names doesn't turn up, it's probably DeNiro)."
Lindsay Lohan was thrown in for measure, but apparently that's just a big rumor. Damn!