Patrick Swayze: 1952-2009
Goodbye Patrick Swayze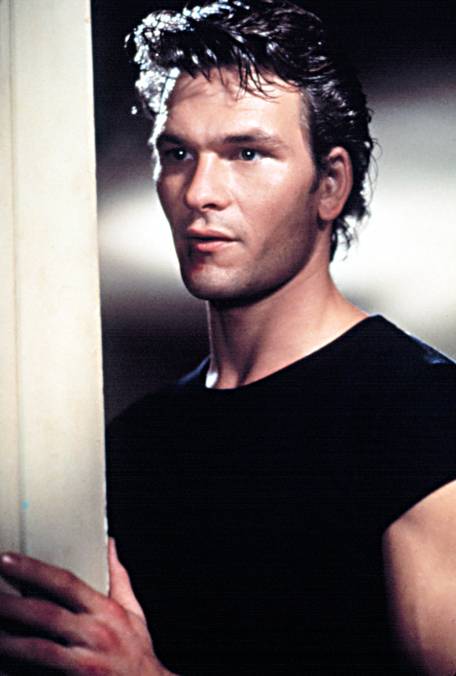 "Nobody puts Baby in the corner."
How many young girls (and older women, and many men as well) swooned when that hunky yet sensitive, uber masculine yet beautifully graceful Patrick Swayze stood up for the awkward, nerdy Jennifer Grey in the admittedly cheesy but now classic "Dirty Dancing"? Legions. Legions. I remember sitting on the school bus in 1987, wondering what these girls were yammering on and on this 1960s-era story of the mismatched but eventual love between a Catskills dance instructor/bad boy and a sweet, smart but insecure vacationing teenager. When I saw the movie (a huge, sleeper hit; the "Grease" of the 1980s), I thought, wow, kind of cornpone, but there is something here. There was a definite "it" quality to the picture that spiked right into the world's romantic fantasy jugular. And, for me, that "it" was Swayze. He was the movie. Now, 22 years later, the star has died after a nearly two-year battle with pancreatic cancer. 
His dancing was not only erotic swagger; he brought the heart and soul and heat and sexuality and even a wounded vulnerability to his part (and the music, particularly the Otis Redding, helped). Much like John Travolta in "Saturday Night Fever," this was a man (not a little boy, but a man) dancing with such impressive athleticism and grace that, no matter what you may have thought of the movie itself, you could not take your eyes off of him.
Born in 1952 in Houston, this rough-around-the-edges "Road House" toughie was actually (and perhaps, not surprisingly) the son of a choreographer/dancer mother, who influenced young Swayze toward dance. Rounding out his abilities nicely, he took up ice skating, classical ballet, gymnastics and acting. But it's the dancing that stuck, so, in 1972, he completed his formal dance training in New York at the Harkness and Joffrey ballet schools.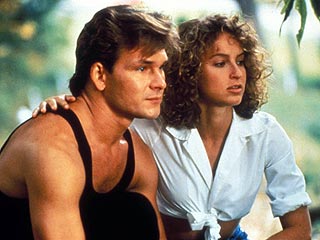 And yet the dancing wasn't originally what gave him notice in Hollywood. It was the movie in which I first saw him: Francis Ford Coppola's lovingly made "The Outsiders," in which he played Darrel, the older, greaser brother and concerned surrogate parent for his troubled Tulsan siblings Ponyboy (C. Thomas Howell) and Sodapop (Rob Lowe). He had a rugged, likable yet stern quality that carried over into works like "Red Dawn," "Youngblood" and the Civil War TV miniseries "North and South," a critical and commercial success for Swayze. This somewhat odd looking yet severely handsome man who could rumble, carry heavy artillery and fight among the blue had arrived. He was well on his way to becoming a huge star. Who even knew this guy was a dancer? By 1987, everyone.
But most Hollywood careers have their ups and downs, and, for a short time, Swayze landed a few duds. He did make "Road House," the story of Swayze's bar "cooler" taking on drunks, a hot blonde and a town run by a ridiculously neofascist Ben Gazzara that has since (and deservedly) become a cult classic.
I can't repeat a line said in the movie here (to Swayze, something about what a guy did to guys like him in prison), but among "Road House" fanatics, it's just as famous that "Baby in the corner" stuff. Or that other line (and this is when Swayze had his tremendous second wind): "Ditto," uttered famously in the award-winning, massively successful "Ghost" (1990), co-starring a teary-eyed Demi Moore, and a sassy Whoopi Goldberg (who won an Oscar for her role).
Lest you have forgotten (and I can't believe you have), Swayze is the ghost of the title, the better half of Moore's sculptress, whose life is ripped apart and placed in peril after Swayze dies in a botched robbery attempt. He is trapped between two worlds, and his desperate desire to not only save his girlfriend from the bad guys who killed him, but also to communicate that he does indeed love her, makes for the picture's romantic dilemma -- he always said, "Ditto," and not, "I love you," when Moore told him how she felt (insert big sigh here). He finally does see her (thanks to Goldberg's Oda Mae), and after finally saying, "I love you," dewy Demi says, "Ditto." That moment became one of those touchstone sequences in which half the moviegoers lost their collective cool and bawled their eyes out.
But again, though the movie was nominated for Best Picture, Goldberg won Best Supporting Actress, and Demi's pixie haircut became as famous as "the Farrah" or "the Rachel," it was Swayze who provided the emotional weight of the picture. He carries the universal understanding of sadness, love and regret -- the regret of not saying those things we should have said to loved ones. And then that short-lived hope (and fantasy) for one more moment with them.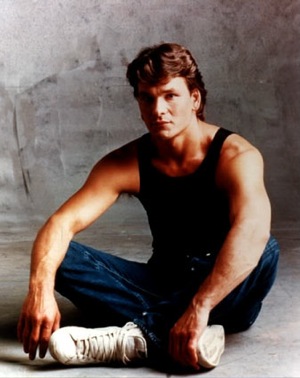 Hot after "Ghost," Swayze starred in the undeniably entertaining "Point Break," another huge hit, opposite Keanu Reeves, and by 1991 was anointed by People Magazine as "The Sexiest Man Alive." And that was his peak. Swayze never had another hit that big, instead suffering from a riding accident in which he fell from a horse and broke both of his legs -- not good for an actor, an especially a dancer. 
His career was on hold for a while, but Swayze took on some interesting roles later, notably as a motivational speaker/secret pedophile in 2000's "Donnie Darko." A joke at first, then a monster, his character becomes oddly heartbreaking, particularly in a beautifully filmed sequence set to Gary Jules' cover of Tears for Fears' "Mad World." His face, perhaps his relationship to dance -- whatever it was, Swayze had a unique way of making songs (from "Love Man" to "Unchained Melody") incredibly memorable on-screen. He may have become typecast as a kind of cheesy relic of the 1980s, but, really, he was so much more than that. Though he had a great career, it could have been greater, had he been allowed to stretch, been allowed to express or dance more stories.
Ah, I'll state the obvious here, but it's damn sad. Quite simply, I liked him. And I'd love for him to come back, if only for one moment, and even just to say that one corny line: "Ditto." Or better yet and without one trace of irony, "Left boot."