'Wild' Style
A philosophical take on 'Where the Wild Things Are'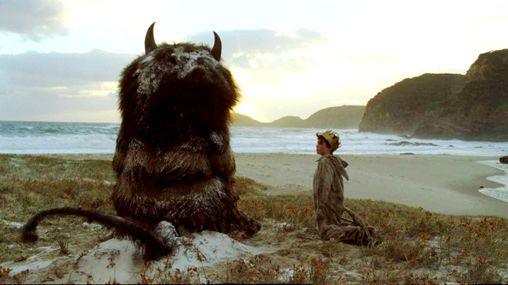 David Brooks writes an interesting, philosophical take on Spike Jonze's "Where the Wild Things Are," a movie that's really splitting audiences and critics (I think it's a masterpiece).
Here's some fascinating thoughts from his Op-Ed piece at the New York Times:
"In Homer's poetry, every hero has a trait. Achilles is angry. Odysseus is cunning. And so was born one picture of character and conduct.

"In this view, what you might call the philosopher's view, each of us has certain ingrained character traits. An honest person will be honest most of the time. A compassionate person will be compassionate.
"...The philosopher's view is shaped like a funnel. At the bottom, there is a narrow thing called character. And at the top, the wide ways it expresses itself. The psychologist's view is shaped like an upside-down funnel. At the bottom, there is a wide variety of unconscious tendencies that get aroused by different situations. At the top, there is the narrow story we tell about ourselves to give coherence to life.
"The difference is easy to recognize on the movie screen. Most movies embrace the character version. The hero is good and conquers evil. Spike Jonze's new movie adaptation of 'Where the Wild Things Are' illuminates the psychological version.
At the beginning of the movie, young Max is torn by warring impulses he cannot control or understand. Part of him loves and depends upon his mother. But part of him rages against her.
"In the midst of turmoil, Max falls into a primitive, mythical realm with a community of Wild Things. The Wild Things contain and re-enact different pieces of his inner frenzy. One of them feels unimportant. One throws a tantrum because his love has been betrayed. They embody his different tendencies.
"Many critics have noted that, in the movie version, the Wild Things are needlessly morose and whiney. But in one important way, the movie is better than the book. In the book, Max effortlessly controls the Wild Things by taming them with "the magic trick of staring into all their yellow eyes without blinking once."
Read the entire essay here.