The Best And Worst Of Adam Sandler
With the opening of 'Funny People' I look at the faves and foibles of Sandler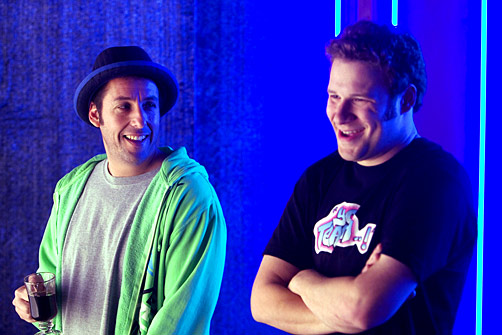 Oh, Adam Sandler. I've defended the actor for years, and I refuse to give up on him entirely. Like the countless audience members who flock to his pictures, I support the almost obnoxiously popular comedian. But most other critics seem to loathe him.
They hated him in his breakthrough film, "Billy Madison" (for the wrong reasons), and they hated his cloying turn in "Big Daddy" (for some of the right reasons). And it's not just critics; even a few of Sandler's fellow comedians have dissed him. Remarking on Sandler's mass appeal, Albert Brooks once said: "Let's do what else America likes. How about cancer? They all seem to get that. Must be good!"

Brooks might be eating his words with Judd Apatow's very Brooks (Albert and James L. Brookes, come to think of it) inspired "Funny People," a movie in which Sandler plays a successful comedian on a quest to find meaning in his life, with the help of up and comer Seth Rogen.. 

Though Sandler's been called many names (lazy, frat boy humor, contributing to the dumbing down of cinema), that's just not fair. He's also capable of inspired moments (in the brilliant "Punch-Drunk Love," chiefly and most likely, the upcoming "Funny People") that show unique talent and depth. Through all these years, I've yet to find another comic star who arouses such disdain -- maybe very early Jim Carrey (but by "The Truman Show" he was embraced) and, of course, Jerry Lewis, who thankfully has finally gotten his due, even outside of France. In fact, I'm surprised the French haven't taken to Sandler -- they so love explicating our Ugly Americans. Perhaps one day they will. For now, I'm stepping in. I'm counting down (and up) the six best and four worst of Adam Sandler. See how much I like him? I'm giving him more bests.
The best, number 6:
"Billy Madison" (1995)
"Billy Madison" was the movie where I realized: I think all of this is funny. Why? And why doesn't anyone else understand why I think this is so funny? And who can I discuss this, uh, humor with? It came out amid other mid-'90s movies that lampooned or embraced the imbecile: "Dumb and Dumber" was released the year before, with Jim Carrey receiving similar barbs concerning the downfall of intelligent civilization; "Forrest Gump," the same year, received an Oscar. "Billy Madison" was generally regarded as inane crud -- a formulaic tale of a man/child going back to school to prove to his wealthy father (the great Darren McGavin) that he could indeed run the family business. But it's not the story that's so anarchically amusing, it's the wacky bits of off-the-wall humor (musical numbers, penguins, "The Godfather: Part II") that spin the movie into some inspired moments of sheer lunacy.
Read my entire list here.