Not His Cup of...T
Mr. T pities the fool who enjoys the new 'A-Team'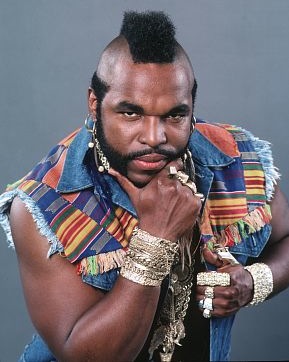 "The A-Team" looks so incredibly over-the-top and insane that, as I've stated before, I'm excited for the movie. A real summer movie, dammit.
Another person, however, is not so thrilled, and this kind of breaks my heart. Mr. T himself (who really should have gotten some kind of cameo in the picture. That makes me mad).
Anyway, Mr. T objects to the movie, stating that it's just too violent and sex-filled for his tastes.
According to T
:
"The 58 year old played the original BA Baracus in the hit 1980s TV show but rejected a cameo role in the upcoming movie, starring Liam Neeson and Bradley Cooper.
"And after seeing a preview of the film, he says he's shocked with how graphic it is.
"Mr. T says, 'People die in the film and there's plenty of sex but when we did it, no one got hurt and it was all played for fun and family entertainment. These seem to be elements nobody is interested in anymore.
"'It was too graphic for me. I've no doubt it will do big business at the box office but it's nothing like the show we turned out every week.'"
You know, this doesn't really surprise me. This is a nice man. Check out how his take on mothers everywhere.