Inglourious Basterd And Good American
Brad Pitt makes more sense than most people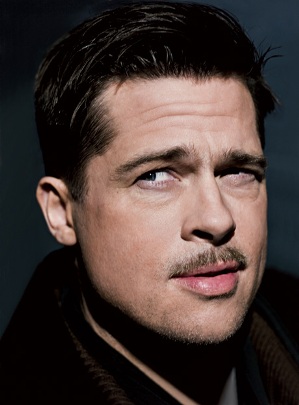 Brad Pitt was on Bill Maher Friday night, presumably to promote Quentin Tarantino's "Inglourious Basterds" but the man is a genuine philanthropist (he is, and I'm not going to hear any of that "celebrities should keep their mouths shut business" -- they are citizens of the world, just like everyone else) so he discussed other issues, and quite sensibly.
With his organization I am fully behind (the development of eco friendly, but aesthetically pleasing housing for the victims of Hurricane Katrina -- Make It Right Nola) and some truly American views of "don't tread on me" -- it's Brad Pitt (not Fox News) who has made one of the most "fair and balanced" statements this year:
"I never wanted to stop anyone else's religion and their beliefs until I started seeing it defining policy.... Like gay marriage. You have a group of people telling other people how to live their lives, and you can't do that. In fact, I'm talking like there are actually Christians watching your show... Well, to the three that are watching, I just say you have to, you really have to check what country you're living in because the freedom that allows you to practice religion is the same freedom you're stepping on. That's not right. And I want to add... if there was a nation of gay married couples that were telling you you couldn't practice your religion, I'd be speaking up for you, too... So, let's stop the nonsense."
As he says in "Basterds:" Yes! Yes! Yes! Let's stop it. Be gay, be Christian, be a bastard (the "a" kind), be Glenn Beck, be Gore Vidal (oh, if only more could be like Gore Vidal), be whatever the hell you want. Just don't tell me what to be. It takes Brad Pitt to clarify such a simple concept?
Watch Part Two of his interview (warning: language, if you are offended by such things) here. (And sorry Bill, Brad is nothing like Charlie Sheen):