'Love Ranch' Poster Debut
The Dame plays a Madam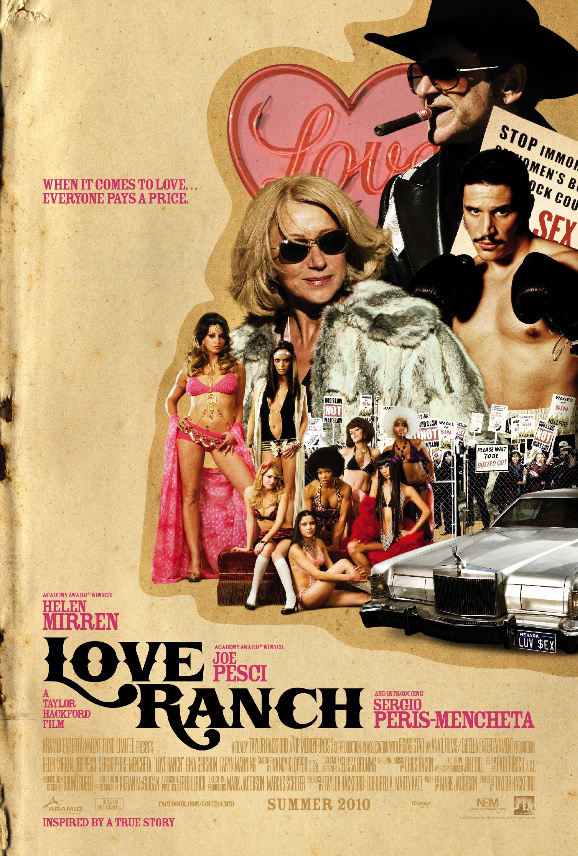 I love this idea, I love this cast, I love...Dame Helen Mirren.
And she's married to Joe Pesci. in her newest movie that is.
Directed by her real life husband (a.k.a. one of the luckiest men in the world), Taylor Hackford, she plays part of the real life husband and wife team who owned and ran Nevada's first legalized brothel in the late '70s -- The Mustang Ranch.
Looking at the plot, this isn't just about a brothel and the swinging '70s, it's also about a love triangle turned passionate and murderous -- specifically involving a world famous boxer from South America (played by Spanish actor Sergio Peris-Mencheta), brought to work at the Ranch. Hmm...I wonder who
he's
going to get involved with? 
Above is the poster debut for the movie -- a poster that has a lot going on. Her cool '70s fur coat, his hat, the girls, the car, the boxer...it all looks good.
The picture also stars Gina Gershon, Taryn Manning, Scout Taylor-Compton, Elise Neal, Bai Ling, MC Gainey, Bryan Cranston, and Wendell Pierce. It opens this summer, June 30th. Be there.