Best Of Death
Don Kaye on the greatest death scenes in movies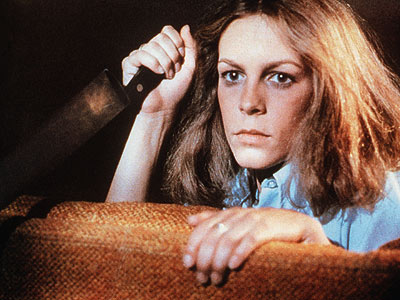 With Rob Zombie's "Halloween II" and "Final Destination 4" (four?) opening this last Friday, MSN's Don Kaye writes a terrific piece on the best death scenes in movies. Be warned. And check it out here:
"When it comes to death in horror movies -- which is basically what the entire genre is about -- the journey is almost always much more interesting than the destination. By that, I mean that horror films have specialized over the years in finding some of the most creative, original, gruesome and downright nasty methods of sending someone down to the clearing at the end of the path. It's not a dead body that's particularly fascinating to horror fans, but rather how many different and frequently unspeakable things can be done to bring the body to that state in the first place.
"The way in which a horror film character is extinguished can be simple as a knife through the chest -- good old Michael Myers in the original 'Halloween' and, we assume, Rob Zombie's new 'Halloween II' was good at that -- or as elaborate as the mass destruction that ensues when flaming chunks of car go flying into the stands at a crowded racetrack, as in 'The Final Destination.' The latter film, the latest installment in an improbable franchise built around an escalating series of more extravagant and punishing death scenes, is opening in 3D, giving viewers an even more immersive ride into the machinery of human eradication.
"And boy do we love it. The four 'Final Destination' films are among the many throughout the years that have gripped audiences' imaginations with all kinds of new ways to stab, strangle, tear apart, burn, drain, bludgeon and squash our frighteningly frail bags of bones. Viewers may groan in disgust, but more often they laugh and applaud -- after all, it's not happening to them. Here is a selection of great horror death scenes that have made many jaws drop over the years, including my own. Luckily no one reached from behind and yanked the damn thing off my face."
Starting with...
"Last House on the Left" (1972)
The centerpiece of this subversive and vicious cult classic from first-time director Wes Craven is a sadistically extended sequence in which 17-year-old Mari (Sandra Cassel) is tortured, raped, stabbed and finally disemboweled by the merciless Krug (David Hess) and his band of psychotics, her life draining away while her murderers literally play with her intestines. The crude, almost amateurish quality of the filmmaking gives it a voyeuristic quality that makes the scene -- and large chunks of the movie, in fact -- virtually unwatchable. It remains the most hideous and disturbing thing Craven has shot in his long career -- and that's saying something.
Read the entire list here.