New trailers for next spring's 'Pain & Gain' and 'G.I. Joe: Retaliation'
2013: the year of The Rock?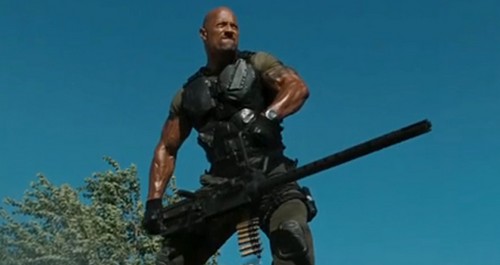 Between "Snitch" in February, "G.I. Joe: Retaliation" in March, "Pain & Gain" in April and the sixth "Fast & Furious" film due in May, 2013 is already shaping up to be quite the year for Dwayne "The Rock" Johnson, and who would have it any other way? He's a consistently likable screen presence, and if you disagree, he could probably crush your skull with one hand. No wonder he keeps getting work!
At any rate, Paramount dropped two new trailers to run with the release of "Jack Reacher" tomorrow. The first isn't the first for "G.I. Joe: Retaliation," the release of which was scuttled from the summer schedule in order to add a 3-D conversion and reportedly beef up the role of the suddenly bankable Channing Tatum. The film now opens on March 29th, and the latest trailer is currently live on
Apple
.
The second marks a distinct change of pace for director Michael Bay*, who has decided to take a break from the "Transformers" franchise and return to Miami for another story of some bad boys. "Pain & Gain" is based on the true-life crimes committed by a pair of Florida bodybuilders (Johnson and Mark Wahlberg), and although it's got a remarkable cast (Ed Harris, Tony Shalhoub, Anthony Mackie, Rebel Wilson, Ken Jeong), it remains to be seen if dark comedy is in Bay's wheelhouse.
That trailer is available through his official
Vimeo page
; we've included both below. "Pain & Gain" is scheduled to pump you up on April 26th. (See what I did there?)
(*Bay directed 1996's "The Rock," so this was all meant to be.)