'The Lone Ranger' Poster Bores, Confuses
Just to be clear, Johnny Depp does not play the title character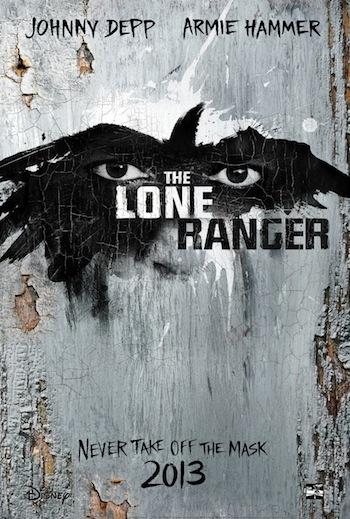 Despite his familiar, penetrating, er, eyeballs being perhaps the only recognizable features of "The Lone Ranger's" newly released poster, we feel it's necessary to remind ourselves that Johnny Depp is
not
 playing the title character, but is in fact playing Tonto, the ostensible sidekick. Even if said sidekick is, like the Green Hornet's Kato before him, arguably more talented than the film's purported "hero," to be played by Armie Hammer.
While not particularly revealing of tone or plot, the poster's seemingly street art-inspired aesthetic draws to mind an early teaser poster for "The Dark Knight," which featured a similarly drawn-on portrait of that film's major villain, the Joker. No doubt Disney would be pleased by the comparison; they'd probably be pleased if their $250 million epic rakes in the billion dollar profits "The Dark Knight" once did for Warner Brothers, too. "The Lone Ranger" has had a long and contentious road to the silver screen, after all, and it's commercial prospects as a mega-budgeted Western still remain to be proven.
What do you think, Hitlisters? Is plastering "The Lone Ranger" across Johnny Depp's face misleading? Does the poster draw to mind any other films? Are we completely off the mark in seeing a bit of "TDK's" initial "Why So Serious?" teaser posters in it? And how about the accompanying still images, seen below, in which the Lone Ranger and Tonto walk away from a dust cloud, sit on horses in the desert, and may or may not gallop alongside a steam train reportedly built from scratch at director Gore Verbinski's orders? As always, let us know in the comments...