Interview: Martin Sheen of 'The Amazing Spider-Man'
'I thought I was playing Spider-Man; it's outrageous. ...'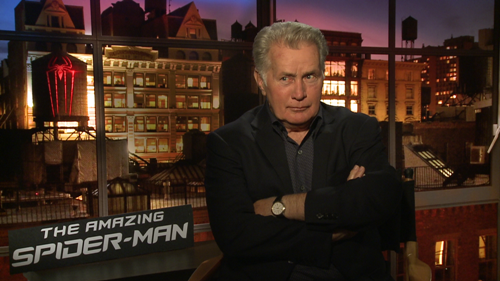 Martin Sheen's acting career has seen his transition through decades -- playing killers, Presidents, Presidents who kill. That's a joke, of course; Sheen has given electric performances throughout his career, in "Apocalypse Now" and "Badlands" and "The Dead Zone" and a host of other great films; now, the veteran actor is Uncle Ben in "The Amazing Spider-Man," which means that he not only gets to mentor Andrew Garfield's Peter Parker but also does not have to worry about any sequel plans. We spoke with Sheen in New York about playing Uncle Ben, building character relationships between web-slinging and the spectacle of Spider-Man.
MSN Movies: This is a character with a fifty-year-old history, a fifty-year-old mythology. How much did you know about it going in? Did you know about what happens to Uncle Ben?
Martin Sheen: They didn't tell me, no, that I'm gone in the first reel. That's how they got to me to do it. I thought I was playing Spider-Man. It's outrageous.
You were getting ready to do the athletic training, the acrobatic training  ...
I did the acrobatic training ... Well, no, I knew they had a guy. Who's going to know? I would just do the talking stuff ... (Laughs).
A lot of these films, they've got big action and big moves, but you have to have the emotional underpinnings. Was that something that director Marc Webb focused a lot on with you?
Very much. It was relationships. If you don't care about these people, and you don't feel that they care about each other, nobody is going to care. That's what we do for a living, so we were grateful to Marc to let us open up and relate to one another.
You of course play opposite Sally Field, who's Aunt May, and I'm thinking, "Peter's got a pretty talented family." Is it good to know you're going into the scenes with somebody who has as good of a track record as Ms. Field?
Well, I'm a huge fan of Ms. Field. She's one of my heroes. In fact I wrote about her in a father-son memoir that Emilio and I did. It was published recently. I talked about Sally in one little section, some years ago when we met, and something she said to me, which is endeared her to me. It's in the book, and I brought her a copy, so if you talk to her tell her it's forthcoming.
I'll definitely pass that on ...
I adore her. I didn't meet Andrew until we were doing the film, but I saw him in "The Social Network" and I said, "Whoa, here comes a guy with some weight." Working with him was such a gratifying experience. He is extremely talented, but he's equally dedicated and focused and generous. He's an enormously generous actor. He did things on camera with us that were just phenomenal emotionally, riveting stuff, and then he equaled it off-camera for our reactions. That's the sign of a real generous actor. I'm delighted he's who he is, and he's where he is, and it's not hard to predict where he's going.
For an actor with your amazing career, you must get everything from "Oh, hi, Mr. President to "Hi, 'Apocalypse Now' guy." Are you looking forward to a new generation of moviegoers saying, "Hey, Uncle Ben" or do you feel like we already know you well enough?
If Uncle Ben is the current salutation, I'd be delighted to accept it.
The other thing is when you're on a movie with this much special effects and this much action is it intimidating or do you think, "Hey, I was on 'Apocalypse Now.' Nothing is going to be harder than that"?
We didn't have any special effects (on "Apocalypse Now"). We were just there. The only other film I did comparable to this was "Spawn"; there were a lot of special effects. You didn't know when you were doing them what it was going to look like. I didn't have any of those in "Spider-Man." I just had the relationship with Sally and Andrew in the beginning, which establishes our relationship and we go on from there. I didn't have to deal with any of that. I'm anxious to see it.
("The Amazing Spider-Man" opens July 3rd.)