Videodrone Essential: 'On the Waterfront'
This contender debuts on Blu-ray in a newly remastered Criterion edition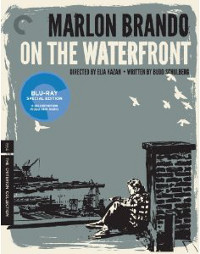 "On The Waterfront" (Criterion) - "I coulda been a contender. I coulda been somebody, instead of a bum, which is what I am."
Marlon Brando won his first Academy Award as Terry Malloy, the former prize fighter turned longshoreman on the mob-dominated docks of New York. Directed by Elia Kazan and starring Karl Malden, Rod Steiger, and Eva Marie Saint, it was the most successful film to date that erupted out of the Actor's Studio "method," winning eight Academy Awards (including Best Picture, Best Actor, Best Director, and Best Supporting Actress). But its political legacy has also polarized critics. Kazan used the story of a man who turns informer on the mob to justify naming names of former Communist party members in front of congress. The controversy sometimes clouds a beautifully-made film shot on location on the streets of New York, where the grit and poverty are turned into an evocative backdrop to the drama with Boris Kaufman's striking, Oscar-winning photography and shadowy lighting.
Criterion presents a fresh transfer of the film, mastered from a 4K digital transfer of the original 35mm negative, for Blu-ray (two discs) and DVD (three discs), presented at 1.66:1 aspect ratio, with additional presentations of the restoration in two alternate aspect ratios: 1.85:1 widescreen and 1.33:1 Academy ratio. The presentation is nearly flawless, with deep, rich blacks, sharp focus, respect for the film's texture (no noise reduction), and a clean image.
Both editions feature a wealth of supplements. Carried over from Sony's previous DVD release of the film is commentary by film critic/writer Richard Schickel and Elia Kazan biographer Jeff Young, the 2001 documentary "Contender: Mastering The Method," and 2001 interview with Elia Kazan.
Continue reading at Videodrone
For more releases, see Hot Tips and Top Picks: DVDs, Blu-rays and streaming video for week of February 19
Are you sure you want to delete this comment?