Interview: Wes Anderson of 'Moonrise Kingdom'
On the past, his present, the theater and the nature of youth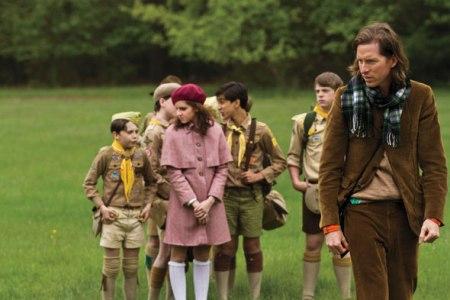 With his Texan past only occasionally manifesting itself in a dry drawl under his lucid and lengthy answers, Wes Anderson is eager to talk about "Moonrise Kingdom" -- and all the other films, and worlds, the writer-director has created. We spoke with Anderson via phone about "Moonrise Kingdom," his writing about kids and adults, and what's next and when for him. 
MSN Movies: Nothing is more boring than the question of where your ideas come from, because the answer might as well be "a box" or "a trunk" -- but what specifically made you want to tell this story, "Moonrise Kingdom," and tell it as a 1965 period piece?
Wes Anderson: It's probably two different things to each half of that. The very first inspiration to want to make a movie that was set among children was the many years ago that Francois Truffaut movie, "Small Change." Do you know that one? It is a great movie, and kind of unusual. It's not really a movie for children, but it's from the point of view of children. I hadn't seen anything quite like that. It's not a genre movie; it's a grown up movie. I was interested in that, because the kids in it are also funny and they're very real and authentic feeling. That was one thing. Then in time I started thinking more and more about my own experience of being a fifth grader who has been blind-sided by at least thinking he's fallen in love with another fifth grader. I just remember how powerful that feeling was at that time, and how overwhelmed I was. That started to inform the thing, and that kind of became something that I was contemplating more and more doing. Setting it in 1965 was really something that just happened when I was writing it. I started thinking that it aught to be set in a kind of Norman Rockwell, the end of the Norman Rockwell America. By the time these characters are eighteen years old, they're going to be living in a completely different world really. That was sort of why I think I ended up putting it in that setting. 
It's interesting because I can easily see somebody doing the aesthetic equivalent of a witch hunt, and asking "Why is Mr. Anderson making a film about a period in time four years before he was even born?" Was it your chance to make a film that looked like some of the films that influenced you?
Well, I think that's an interesting thought. Probably, yes. I don't know that I was consciously thinking of it that way, but I bet that is part of it. That's my experience of that time,  is really movies before I was born. I will say that by the time we were actually making the movie, there were a number of movies that were inspiration for it, but it's not a movie where I really felt like I was thinking that much about any other movie while we were making it. I felt like the subject matter and the emotions that I kind of was hoping to recapture from my own experience became the real center of it. But I expect you're right nevertheless.
Your work has  this really interesting engagement with the sense of the theatrical. Max Fischer putting on shows, even Royal Tenenbaum acting being unwell, to the center piece, Noah's flood, in "Moonrise Kingdom." Was live theater what you fell for first as a kid?
Yes, it was. I am more than fascinated with the theater. I'm just so completely charmed by it. I didn't grow up with the theater really. I've always been sort of outside of it, but I have been so drawn to it. There's nothing like the atmosphere backstage at a Broadway show. I've so often thought I would like to do a play, but I think I'm starting to realize that I've sort of incorporated the theater into my movies. Movies are what I have learned to do. Maybe I will still do plays, but somehow not only do I very often have some theater performance or some element of the theater, I also think my movies themselves are theatrical movies. They're not quite reality. They're almost like they're staged films. I'm drawn to that. The theater means a great deal to me.
And someday when you feel like making that big money jump you might go from indie film direction to live theater and really just start raking it in?
Yeah, I guess the only way to do it is if I bring in Elton John. If I could do a huge musical, maybe my fortune will be made.
You're saying that facetiously, but at the same time if somebody you were actually interested in said, "Hey it's a Magnetic Fields or Guided By Voices musical" or some other band you enjoy, would you be interested in doing a musical, exploring that?
Maybe. I mean I have a feeling whatever process it is -- by the way Magnetic Fields is a great idea. I love Magnetic Fields, but also Elton John is not a bad idea. I think I have a hunch that what would happen in the course of the thing is I would make it into a movie. We would start with the thing of it, by the time we get to it I would say, "You know, guys, maybe we'll do the Broadway show next." I think it would turn into a movie. I don't guarantee it, but I have a hunch. As much as I'm drawn to the theater, it really is as an outsider, and it's a romanticized thing.
You're saying that for you the grammar of storytelling, no matter how the phrases and clauses come out, they tend to get expressed in film?
I think that's pretty good. I'd prefer if you'd just say that and act like I said it, but if necessary you can admit that you're the one who had those words. I think that perfectly encapsulates it.
I'll bear that in mind. There are very specific shots in "Moonrise Kingdom" like the crossing of the dam or Scout Master Ward's heroic two- sided leap that looked like they were really affected or tinged by your work in creating the world of "Fantastic Mr. Fox." Did doing that teach you things about live action composition and shots and structure that you hadn't thought of before?
Those shots, some of those images you're describing are really sort of theatrical. There are miniatures and things that are kind of a part of the story. Before doing "Fantastic Mr. Fox" I would not have thought to build things that we built in this story. I would've just said, "We're going to work with the locations we find" and so on. With this we built many more things. When you're doing an animated or stop-motion movie, you really can say, "I have an idea for a tree that I'd like to do." You can invent your own. Everything has to be made from scratch, anyway, as a miniature. You can have ideas for furniture and settings and things, but you can also have ideas for skies and plants. It's a sort of world-building experience. Suddenly you feel like you've added another dimension to what you can choose among.
I sort of wonder about people who are incredibly comfortable in their métier. Do you ever think to yourself, "God I would love to make a movie like Bresson's 'Pickpocket' or 'Pick up on South Street' or one of the classic film noirs, but I just don't know if I can articulate that kind of film?"
Bresson's films are very naturalistic, but they are all connected by a very particular kind of method, and a set of just strict rules by which he made all his movies. I think he shot practically everything with the same lens. Literally. His work is very formal, if that's the word, but formal based on his interest in this kind of sort of realism with a spiritual undercurrent. My movies also have my own kind of formal interests and what I'm drawn to, but what I'm interested in, in my message is related to the subject matter and my kind of stories. I feel like if I was doing something that was in a real genre that has its own rules, I'm not sure -- I feel like I have to do my own. I can use a genre and maybe make it into something else, but I just don't know what the mixture of me and a completely alien set of rules results in. That's a kind of complicated way to say it, but maybe that answers the question somewhat.
How much authorial voice is it okay to read into your camera work, in so far as both at the beginning and the end of "Moonrise Kingdom" there are two very important moments where Suzy just looks right to camera. The camera placement in that hallway is different than it's been before. Should we read that much into the camera work, or do you just have the kind of working style that rewards lonely pallid obsessives like me? 
I would say certainly in the opening sequence there is a moment when she looks directly into the camera. It can't be interpreted any other way. This sequence, which is a sequence that I had accounted for based on it was set to this music, then we drew the thing. I drew it and I had somebody else draw it better, and we animated it, and then we built the steps to fit it. It all had to be built to shoot it this way. Then we filmed it and it all was working toward the climax of that sequence, which was really given a lot more emphasis in the movie than practically anything else. It was building towards this moment of her looking into the camera. I don't know what, in terms of how to interpret it, I don't know. To me it is this character communicating directly to the audience. There is this thing in the movie; the narrator is talking to the camera regularly.  There is some kind of audience relationship there. I couldn't say exactly what I meant by it, except that it's the key to the experience of that sequence.
In your films there's a lot of discussion of how kids are just adults, but before the concrete of unhappiness sets. Max Fischer could very well turn into Bill Murray's character. Sam and Suzy could very well wind up being Bruce Willis and France McDormand's characters, but right now they're not. Their lives haven't hardened around them and around their sense of hopes. Is it interesting for you to explore the sort of similarities between childish and adult behavior?
Yeah. I think the children in this story there are these parallel relationship in the movie. The adults even get to a more hopeful place in the story, but the children, they're the ones that actually know what they want. They don't have the experience to imagine how it can all go wrong. That protects them and also maybe doesn't protect them. They do know what they want. They do have a clarity that they adults I don't think have at all anymore. Maybe they have an advantage; maybe it gives them more of a chance of not having it harden in a sort of sad way.
Are you someone who has any sense of what he is going to do next? Do you think about your next film while you're wrapping the current one? Do you just wait until something like inspiration and five quiet minutes come together?
I've had films where I've finished them and I don't have any idea and I'm just starting from scratch. With this one I did have something that I had been tinkering with a bit. After I finished "Moonrise Kingdom" I had pages of something, then in fact before the movie came out I started working on it and made the script. I now have the script for what I want to do next and I'm kind of putting it together. Usually even if I do have the idea  ... for instance, after I finished "Fantastic Mr. Fox" I spent a year trying to finish the "Moonrise" script before I really got it even beginning to take shape.
("Moonrise Kingdom" is now playing in select theaters.)