New UK 'Les Misérables' Trailer showcases film's epic scope and talent
Tantalizing glimpses of the range of stars in this musical spectacular opening on Christmas Day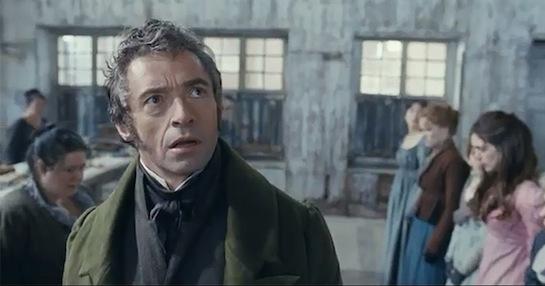 Count me among the people who will be foregoing Christmas cheer and ho-ho-hos for a visit to bleak 19th century France and the travails of Prisoner 24601 aka the perennially hunted Jean Valjean. Yes, I'm talking about Universal Pictures' upcoming film musical of the stage phenomenon "Les Misérables" that opens next month on Christmas Day. Universal has released a new international trailer that shows a lot more of the cinematic glories of the film than previous clips as well as more of the talented cast singing the show's iconic songs including "I Dreamed a Dream," "Castle on a Cloud," and "Do You Hear the People Sing." In a move that is quite rare for movie musicals, director Tom Hooper ("The King's Speech") recorded the actors' singing live during the filming, adding to the raw emotions of the scenes.
Whether or not you're already a fan of the stage musical, director Hooper promises to deliver an old school musical epic the likes of which we haven't seen in decades. "Les Misérables" stars Hugh Jackman as the long-suffering Jean Valjean, a man imprisoned for 20 years for stealing a loaf of bread, Russell Crowe as Inspector Javert, the police inspector obsessed on seeing Valjean return to prison, Anne Hathaway as the tragic Fantine, mother of the illegitimate Cosette (played by Isabelle Allen as a child and Amanda Seyfried as an adult), Eddie Redmayne and Aaron Tveit as student revolutionaries Marius and Enjolras, and many more talented actors and singers with horrible teeth and covered in early 19th-century grime. I was especially excited to see the perfectly cast Sacha Baron Cohen and Helena Bonham Carter as the corrupt innkeepers, the Thénardiers, who end up raising (and abusing) poor Cosette. I don't know about you, but I never tire of seeing Bonham Carter playing demented women with crazy hair!
Though set almost 200 years in the past, this film presents the struggles between the "one percent" and the teeming masses with plenty of modern-day relevance. Take a look at the new trailer (after the break).
Are you sure you want to delete this comment?