Handmade Hauntings: The Tiny High-Tech World of 'ParaNorman'
How Laika's animators are using cutting-edge tech to make an old-fashioned ghost story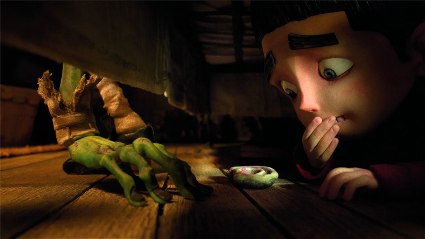 Last February, a small group of journalists was flown in to Laika Studios in Portland; best-known for the stop-motion dark fantasia "Coraline," Laika was gearing up for its next film -- the 3D stop-motion animation creature-comedy "ParaNorman," currently slated for August release. In a low-slung building in an industrial park on the outskirts of the famed gem of the Pacific Northwest, industrious hands were slowly, minutely making the small and contemplated changes stop-motion requires, building the illusion of movement out of 24 slightly different photos of stillness a second.
Written and co-directed by Chris Butler, Laika's head of story, "ParaNorman" is, as one Laika staffer waggishly puts it, "John Carpenter meets John Hughes." Slated to be released by Focus Films in three months, "ParaNorman" is the story of Norman (voiced by Kodi Smit-McPhee of "The Road"), a perfectly normal 11-year old who discovers he can talk to the dead and then has to use that capability to help his small New England town avoid a 300-year-old witches' curse that'll see the undead rise and devour all.
Our visit coincides with the last two weeks of shooting -- so, for example, the puppet-making workshop, which previously had been chaos, was able to enjoy a little off-time; at the same time, there were still plenty of scenes being shot, and at one point, the production had up to 52 separate units shooting scenes in the small, black-curtain-walled​ cubes and 'soundstages' at Laika, some devoted to a home's interior and some, for one example, creating an entire 90-foot long main street in miniaturized fashion for a chase scene where a van filled with our protagonists is trying to get out of town. The store windows are filled with tiny goods, a small overtipped trash can suggests microscopic panic in the streets, and the look is, essentially, one part "Scooby-Doo" to one part Normal Rockwell, which strikes me as a perfectly fine combination.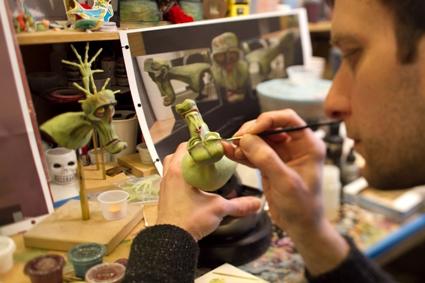 It's a process that will see the final cut of the film take over a year and a half -- and yet, as puppet fabricator Georgina Hayns explained, the scale and sweep of it couldn't brush aside the small details that make stop-motion what it is. The production found Portland-area jewelers and fashion designers to come on board to help keep the characters looking lived-in and real.  Heidi Smith's pen-and-pencil character designs were full of the kind of organic, handmade style that made the rigging and armatures crew -- the people who make the metal skeletons under every puppet's clothes and skin -- search for new ways to create, for one example, the puffy-vest wearing bulk of Mr. Prenderghast (John Goodman) work without toppling the puppet, or creating some of Norman's more lumpen school chums. "Norman  -- he's skinny, his clothes are tight-fitting ... he's sort of easy. With Alvin (Christopher Mintz-Plasse), who has this big fleshy neck, and these big fleshy arms, we move into lots of techniques with lots of soft silicones; we've learned a lot from the cosmetics industry."
Hayns, in conjunction with Director of Rapid Prototyping Brian McLean,  explained how one of the most unexpected time-savers -- a phrase they use with plenty of air-quotes around it -- in the production came from an unexpected place: high-end computer hardware peripherals. Explaining the old-school ways of stop-motion, where a character's expression had to be altered mechanically, Hayns shows us a green-skinned zombie judge, bewigged like an English Magistrate … with small Allen-key holes in his head to best manipulate the way his mouth opens or closes, one movement at a time. "All the zombies do is moan and groan … so you don't need a lot of subtlety …"
As McLean puts it, "On 'Coraline,' we looked at a problem that existed for stop-motion animators -- how could you compete with  CG? How do you afford these beautiful hand-sculpted puppets the same expression and emotion we're used to in CG, or even 2D, animation?" One of the answers is what's called face-replacement technology, where a separate facial-sculpture is made for every small part of every single emotion and placed, piece after piece, on a puppet. The lead character in "Coraline" was animated this way, McLean explains … which required hand-painting every replacement piece. "We simplified her design, and we did it purposely, because we knew she had five freckles on one side of her face, and five on the other, and we knew how long it would take for some poor painter to paint them ..."
For "ParaNorman," though, the Laika team not only took advantage of recent technical improvements but also a couple of happy accidents, using a 3D printer to make individual face-pieces, in color, all from the original designs and in a way that streamlined, even slightly, what had previously been a laborious process. Along the way, the team also discovered that the plastic resins and powders used by the 3D printing process have a lifelike, translucent quality to them -- McLean holds up one of the face-plates for Norman and puts it to the light, and the backlit ears have the glowy, pink, perfectly imperfect look of a flesh-and-blood ear.
"We take the 3D model … we paint that in the computer … we send it to the printer … and it prints it. And the color is 1/16th deep, and it's a lot like skin … " for all the high-tech, though, McLean is quick to say where the high-tech trickery ends: "We look at the actors doing their dialogue, and we're not doing performance-capture or facial-tracking; we just take inspirations from that." It's a conflict and contrast, between the high-tech and the hand-made, that Hayns likes. "With this amazing modern technology of 3D printing, which we've been able to use for our stop-motion films to give our films an illustrative look … that's one of the fantastic things with the printer; we're able to get so much detail into our faces." (It also requires digitally erasing the line on character's faces where the two plates, top and bottom, meet -- a "cheat" no one at Laika has a problem with, although, as Haynes notes, there were discussions about if the team wanted to do so at first on "Coraline.") There's other trickery, too, some of it lower-tech; at one point, Neil -- a heavyset-looking kid -- runs, and the armatures team asked directors Chris Butler and Sam Fell if they wanted Neil's stomach to wobble as he ran, building a rig out of a guitar gear, used normally for tightening strings, to move Neil's stomach up and down as he beats feet.
The twin challenges are both nearly insurmountable -- how do you make a computer designed character work in the real world of silicone and steel, and, secondly, that real-world model then has to be small enough to not be unusable, but large enough to manipulate. "The eyes," as McLean explains, "are half an inch across. We live in the computer world, but everything we create has to work in the real world…"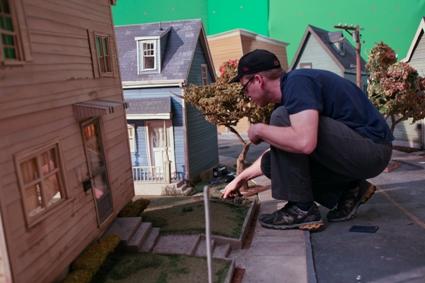 Director Chris Butler explains the basic pitch before showing some footage: "There's a kid called Norman, he's a little usual, he can see and talk to dead people, which makes him a bit of a pariah at his school -- and all the way through the first act, he's got his mad uncle, who can also see ghosts,  who is telling Norman that he has to use his gifts to save the town of Blithe Hollow from a 300-year-old witch's curse .. but he'd rather be a normal boy, and lead a normal life." Co-director Sam Fell explains "This is a kid's movie about zombies … and so we felt we had to show you some zombies coming out of the ground.  …"
The footage is impressive -- goofy and ghoulish, but never grisly and gross, and the voice work matches nicely with the puppetry (including Elaine Stritch as a ghost and John Goodman as Norman's mad uncle) -- it's a work in progress, but it works.
Stepping into one of the black-curtained shooting enclosures -- wit curtains to the ceiling to block out light and distraction -- we're shown a beautiful forest -- that fits on a tabletop, small but big, with Norman among the corrugated-cardboard​ trunks and shredded-paper grass; the lights are real, casting a golden glow over everything. (The animation and design team physically travelled to New England to tour the area, get a feel for the community and absorb as much of the area as possible.) It's the culmination of months or years of effort and work -- and at the same time, those months and years of work will turn into a single frame making up less than one 24th of a second as part of a finished film. "ParaNorman" may involve ancient curses and the supernatural, but the making of "ParaNorman" combines old-school filmmaking technique and an almost magical level of technology, as the dead and lifeless puppets and hand-crafted sets are being slowly, step by step, brought to something like life in time for August.