Remembering Celeste Holm (1917-2012)
The Oscar-winning actress died this morning at the age of 95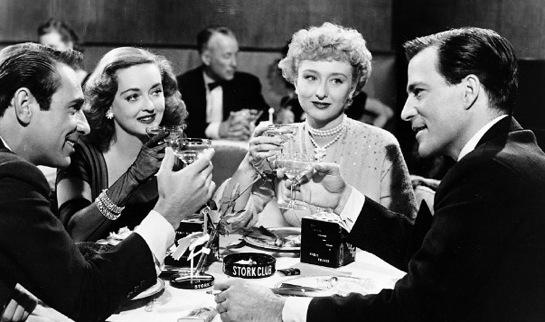 By any measure, Celeste Holm had an amazing career that brought new meaning to the word "longevity." The actress, who died today, first appeared on Broadway 74 years ago, she won an Academy Award for "Gentleman's Agreement" 65 years ago, and starred in a TV series as recently as 12 years ago. Though 95 years old and in frail health at the time of her death, Holm still managed to complete roles in two films that will be released later this year.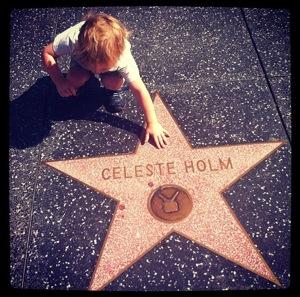 Forgive me a personal anecdote that is simply too weird to not mention. This morning I was walking along Hollywood Boulevard with my three-year-old son Charlie. We were gazing at the stars on the Hollywood Walk of Fame when, as God is my witness, Charlie suddenly darted over to one star and tenderly placed his hand on it. It was Celeste Holm's. I quickly took this photo after which my son sat down on the star and refused to budge. When we returned to our car about an hour later, the first thing I heard on the radio was that Celeste Holm had died this morning (cue "Twilight Zone" music). Is my son a celebrity empathic? The reincarnation of one of Holm's hundreds of co-stars?
Celeste Holm was nominated for three Best Supporting Actress Oscars and was the very definition of a "supporting actress." Not in the sense that her roles were shorter or less important than those of the film's leads, but more that she was such an ideal ensemble player that she upped the game of everyone around her. While her Academy Award for "Gentleman's Agreement," a 1947 film about American anti-Semitism starring Gregory Peck and Dorothy McGuire, was well deserved, my favorite Celeste Holm performance by far is in the 1950 Bette Davis classic, "All About Eve." Holm plays Karen Richards, the sweet wife of playwright Lloyd Richards (Hugh Marlowe) and best friend to temperamental diva Margo Channing (Davis). It is Karen who first introduces the conniving Eve Harrington (Anne Baxter) to Margo, and she remains the heart and soul of this magnificent film through all the machinations and histrionics of the main players.
Holm's third Oscar nomination was for the 1949 film, "Come to the Stable," in which she and Loretta Young play French nuns who come to a small New England town to help the residents build a children's hospital. My other favorite Celeste Holm films include "The Tender Trap" (1955) and "High Society" (1956), both opposite Frank Sinatra. Holm also had an impressive stage career. Among other things, she originated the role of Ado Annie in Rodgers and Hammerstein's "Oklahoma" (1943).
The first time I saw Celeste Holm as a kid was on the beloved TV version of Rodgers and Hammerstein's "Cinderella" starring Holm as the Fairy Godmother and Lesley Ann Warren as Cinderella. In another odd twist of fate, I was at a screening at the Motion Picture Academy last night and found myself sitting directly in front of the still beautiful Warren who had come to the screening all alone. I wish I had turned around and talked to her about working with Celeste Holm all those years ago.
The first stage musical I ever saw when I was growing up in Chicago was a touring company of "Mame" starring Celeste Holm as the irrepressible Mame Dennis. I've seen the actress several times since then, the most recent being in 2008 when she introduced a screening of "All About Eve" at the American Cinematheque in Hollywood. With her memory fading, Holm was joined on stage by her husband, Frank Basile (over 40 years her junior!), who helped her remember various anecdotes about the making of the film. In addition to stories bout "All About Eve," Holm told us about the time she purposely stalled an elevator so she could beg director Anatole Litvak for a role in "The Snake Pit." (She got the part!) She also told a funny tale about the "swear jar" that goody-two-shoes actress Loretta Young set up on the set of "Come to the Stable." Celeste and the other actors were forced to drop a quarter into the jar every time they so much as uttered a "damn" in Young's presence. When ballsy Ethel Merman heard about the swear jar, she stormed onto the set, shoved a twenty-dollar bill into the jar and said, "There you go, Loretta. Now go fuck yourself!"
Needless to say, Holm brought the house down with that story, as she did with audiences for over seven decades in the spotlight. Rest in peace, Celeste!
Are you sure you want to delete this comment?