Videodrone MOD Movies: Lust in the 'Red Dust'
Clark Gable and Jean Harlow bring pre-code sexiness to the jungle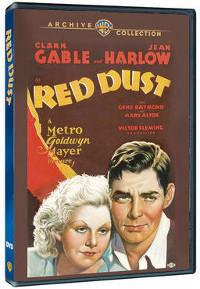 "Red Dust" (Warner Archive), the 1932 jungle melodrama starring Clark Gable as a rubber plantation foreman in East Asia and Jean Harlow as the street smart showgirl who takes a powder from "Say-gone" (as they call the future Vietnamese city of Saigon) and lands upriver in his primitive plantation manor, is as sexy, frank, and grown-up as pre-code cinema gets.
Gable's Dennis Carson is pure testosterone, a macho hunk of survivalist instinct, racial bigotry, and unapologetic chauvinism, as arrogant and judgmental as he is hypocritical, which strangely enough is part of his rough-edged charm. And make no mistake, the man is mesmerizing, even when he's insufferable. Gable was quite a prolific player in the MGM stable but until then he was always playing in support to the star. Director Victor Fleming plucked Gable to take the lead here with newly-minted star Harlow and helped shape Gable as the rugged man's man star, a cocktail of machismo and impertinence and sassy confidence that defined his image. Fleming soon became Gable's friend and hunting buddy and the actor's favorite director.
As with Gable, Fleming helped shape Harlow's screen persona with this and the subsequent "Bombshell" (also available form the Warner Archive; reviewed on Videodrone here). Harlow is Vantine, a woman of indeterminate employment (she's hitched a ride on the first boat out to get out of a spot of trouble, a hazard, as she explains, "in my line of work") and no apologies. That's her charm and Harlow magnificently embodies this creature. Whatever her career, she makes no apologies of how lives her life. She's open, unashamed, likes to sleep with men, and doesn't care what anyone thinks about it.