Videodrone MOD Movies: More from Fox
A look at recent releases from 20th Century Fox Cinema Archives
Every studio that has entered the manufacture-on-deman​​d realm of disc distribution has fumbled its way through technical issues but most quickly settled into a strong track record of good-quality releases.
Except for 20th Century Fox Cinema Archives. A studio with not only a big library of classics in the vaults but their own cable movie channel, you would think they were poised to start rolling out the movies. Unfortunately, the quality of releases is wildly inconsistent, with the worst offences coming from pan-and-scan editions of widescreen movies (and this from the studio that introduced CinemaScope!) and non-anamorphic versions of those widescreen editions that do arrive intact.
Here's an overview of Fox MOD discs released over the past couple of months. I tried to steer clear of widescreen movies (no need to confirm disappointment) and focused on films that interested me personally and, I hoped, would be high quality releases. For the most part, they are. A few film reviews and notes on the digital masters are below.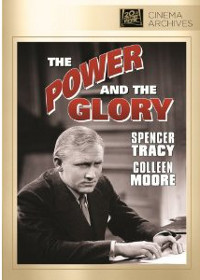 "The Power and the Glory" (20th Century Fox Cinema Archives) is something of a legend in some circles for a couple of reasons: the 1933 production is built on an early, ambitious original screenplay by Preston Sturges (one of the great Hollywood comedy directors ever); and its fractured narrative, jumping back and forth in time to tell the story of a controversial industrialist's life, anticipates the unconventional structure of "Citizen Kane." This is no "Kane," mind you. Director William K. Howard drags the film out with sluggish, static scenes and favors mawkish sentiment over the more interesting elements of character and conflict that the screenplay explores in its circuitous structure. Yet it covers a lot of story in its brief 75 minutes (it feels longer) and young Tracy gets to show off his potential as a heavyweight actor through is evolution from uneducated working class guy to powerful tycoon. And along with a few graceful camera moves, there is a striking image near the end of the film where a beam of sunlight pouring into Tracy's study, an image picked up in the Thatcher library scene in "Citizen Kane."
The credits were reconstructed in 1983 and the opening theme doesn't sound like the original music, at least compared to the rest of the score (an abrupt audio cut when the film starts is a dead giveaway). The print itself is scuffed and patchy and the soundtrack hissy and full of pops and jagged edits. It really needs a good clean-up, not to say a full restoration, but given the condition of the print and film's age and legacy, the disc is good enough until something better comes along.
"Stanley and Livingstone" (20th Century Fox Cinema Archives), made six years later with Spencer Tracy and significantly more studio resources at director Henry King's disposal, stars Tracy as newspaperman Henry M. Stanley, sent to Africa to find Dr. David Livingstone (Cedric Hardwick). Immortalized by the line, "Dr. Livingstone, I presume," this highly fictionalized film looks far better on disc than "The Power and the Glory," nicely mastered from a well-preserved print for a fairly strong and clean image with slight pulsing.
Continue reading at Videodrone
For more releases, see Hot Tips and Top Picks: DVDs, Blu-rays and streaming video for the week of January 29