Interview: Scott Speedman of 'Citizen Gangster'
'It has a seventies feel; it's an interesting crime drama, and it has a lot of heart ...'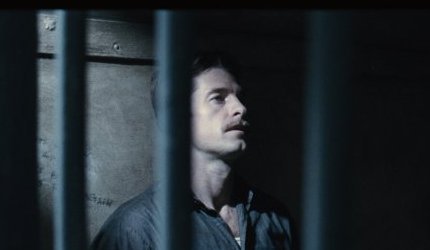 Talking with Scott Speedman about "Citizen Gangster" -- his new film where he plays legendary Canadian bank robber Eddie Doyle -- it's easy to get distracted by the Canadian-raised actor's storied career, from appearing on "Felicity" to acting in films like "Underworld," "The Vow," and more. "Citizen Gangster" is Speedman's biggest part, playing a broken-souled WWII vet who seems to most come alive when he's vaulting counters and putting on a show for the bank staff, reveling in his infamy even as he pays the price for it. We spoke with Speedman via phone.
MSN Movies: As somebody who grew up in Toronto, was it great to play a Canadian bada**?
Scott Speedman: Yeah. Other than hockey movies, I don't think we do a lot of that. It was really fun. That was part of the exciting thing when I first got the script -- I'd never heard about this guy, but reading the script it felt really authentic. It was just so interesting. I don't know if I would quite call him a bad-a**, but there was something really cool about him for sure.
This is '50s criminal Eddie Boyd who robbed a startling number of banks and escaped from the Don Valley Prison in Toronto twice. How were you pitched to do this as a film? Who came to you and said, "Let's do the Eddie Boyd story?"
I mean, director Nathan Morlando came to me. He lives in the same area of Los Angeles that I do, and he came to me with the script. He's a very passionate guy, and he'd gotten to know Eddie Boyd a little bit, and he sat down gushed out to me, and got me to read the script. It was really a passionate piece. I just wanted to jump out and take a shot and do something so scary and interesting.
The movie looks like this kind of Michael Mann film, with snow.
Yeah, right, well we shot in Sault St. Marie. You'll know where that is. You know, it's Western Ontario, so it was interesting to shoot up there in the winter for sure.
Because it's freezing cold.
It was freezing cold. We actually got lucky a couple of days with the weather. There were a couple days where it was ridiculous how cold it was.
The other thing is that in terms of great Canadian tough guys, you get to do a bunch of scenes with Kevin Durand ("Lost," "X-Men Origins: Wolverine,") who plays Lenny Jackson.
Have you ever met that guy?
I saw him one day at my gym here in L.A., and I got really frightened.
Oh no, he's about the nicest guy you'll ever meet. The most open sweetest guy you'll ever meet. That's not to say he's not tough. He's the sweetest guy, but he is huge. He's just a massive guy. It's weird, because he's also a great actor. I think it's an interesting thing for him, because he's so big and so tough-looking. He's a very good actor.
What stuff do you watch to get into a gangster film set of mind?
I don't know if it was something so much that I watched. I mean I watched all that stuff. It wasn't more leaning on films of the past. Soon as I read it, to be honest, I knew how to get into the character. I knew that I could get into the character, and I knew instinctively, without being able to articulate it, I knew what I wanted to do with it. I just got into that way. I mean you'll go see all those Michael Mann movies, and you'll go see all that stuff, and you'll try to do yours that way, but at the end of the day it really comes to me inside.
Also great scene work. When you walk on the set and realize you're going to be doing a scene with Brian Cox? --
Yeah, that's cool. We had him for two days, and he was doing a play at the same time in New York, so he would fly up on a Sunday right after his matinee and shoot on Monday, and then back on Monday night. It was very good of him and it was incredible getting to work with him. It really was. I've loved him since "Manhunter," so yeah, I'm a big fan of his.
You mentioned that you had him for two days, how long of a shoot was it?
It was like twenty-five days.
Because it feels fast.
Yeah, once we geared up we had a great D.P., who is a very talented guy. We just we're setting up and going for it and knocking it out as best we could. We were going so fast. I've never gone that fast before. Once you got into the rhythm of it, it was great. It all worked.
There's got to be some correlative stuff you can tie into from being in actor, into the kind of public stage that Eddie was looking for.
Yeah, I think a lot of us initially get into acting to be seen and to be heard and to be loved. I think that's very similar to what Eddie is doing. I think he had a really tough home life and was really seeking love and adulation from outside. There's some comparisons there for sure.
How great is it to do all the physical choreography of crime?
Oh it was great. I mean it was very exciting and scary. That's very interesting stuff. To get to do all that stuff, and run into a bank and jump over a counter and do all that stuff was great.
Do you think people come down on the werewolf side of the vampire versus werewolf argument with you, just because they're trying to suck up to you?
(Laughing) Well the good thing about this is I can appeal to both sides, because I was a vampire and a werewolf. I was a hybrid in ("Underworld") actually. I had no horse in the race in that way. In terms of people they can do the same thing. They can go on either side with me, so its fine.
So you're bi-monstral?
I'm bi-monstral, exactly. I've never heard it put that way, but I'm going to use that.
I think people don't want to sympathize with vampires anymore. I think it's mostly pro-werewolf.
Well, yeah I think at this point they might get a little exhausted by it.
Do even you get scared when you watch "The Strangers?"
I don't think I've ever really sat down and watched the final product. When I first read that script, I got up halfway through and locked the door to my house when I was reading that. I understand why people find it scary. It's a very effective script. Bryan Bertino can write that stuff like nobody else. He's a really talented guy that way. He can write, feel, and texture all that stuff. That's really hard to do. He does it very well.
In "The Vow," how long was the day when you took a fake punch from Channing Tatum?
It was short. It was a short day. It was the end of the day. No, it was like a good six hours that day. It was fun. I really like that guy. He's a really likable guy. That was the challenging part of that scene, is he is such a cool guy, likable guy. It was hard to get your blood up to get in a fight with a guy like that, but it was fun.
What was the number one thing you learned making "Citizen Gangster"?
I learned something on every movie. It's really hard to articulate what that is. It's my first real lead of a movie, where I had to take the character from beginning to end, and really lead the film. That itself was a super challenging thing. I think just by doing it you just gain something. Again its hard to articulate what that is, its just sort of a confidence boost that you can do it, and it sort of spurs you on to take more risks. It just taught me that I can go and take a risk and jump off a cliff, and sort of fly a little bit, sort of survive that.
Looking at films like "My Life without Me," that's not a super fun part to do.
Yeah, sometimes those little things like that really have weight to me. I really liked doing that movie. I loved that script. That was a really special movie for me too.
Is it great working in the Canadian film industry at a time when there's exciting stuff going on because of its traditional role as a good location hub, but also there's good stuff going on because of the strength of the artistic community?
Yeah. I would not come and do movies, just to do Canadian movies honestly. I've been able to come up to Canada and do really interesting things that really helped me transition from being a younger man to the age I am now, and to the roles that I'm doing now. It's been great. I'm always thankful about that for sure. It's been a great place to find work. 
And you can still make it look like Chicago relatively inexpensively.
Yeah, sort of. We still had to go to Chicago. Say "The Vow" was shot in Toronto, we still had to go to Chicago for the exteriors and everything, but yeah you can to a point I think.
This movie has such a great cast. You have one maybe two scenes with William Mapother, but he kind of brings it, doesn't he?
He's a really good actor. He really does bring it. We had very brief scenes together. We weren't together that long, but its great to get a presence like that in a movie for sure.
Did you see this at Toronto (Film Festival), where it debuted? Did you hear how it played with an audience?
Yeah. I did. It was interesting. I mean every screening is different. We watched it premier night, with a smaller more selective audience, and then the second time we played it was to a much bigger audience. It was really fun to watch the differences in how people respond to it. No it played very well. I think audiences really have taken to it, which is nice.
What's next for you?
I'm actually shooting nights right now in this movie called "Barefoot" down in New Orleans with Evan Rachael Wood. I'm filming that right now, and I'm doing a pilot that's for ABC. I'm busy right now, which is good.
What one thing would you say to people to convince them to take a chance going out to catch or downloading "Citizen Gangster"?
It's exciting. It's a throwback movie. It has a seventies feel. It's an interesting crime drama, and it has a lot of heart. It's a character you've never seen before, for sure. 
("Citizen Gangster" is now on VOD and in select theaters.)