Halle Berry swaps out for 'Carrie' this March
Kimberly Peirce's remake of the horror classic sees a half-year-long delay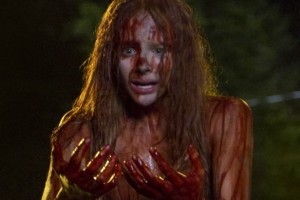 Despite having been scheduled to open in just ten weeks' time, we haven't seen more than a title-less poster and a minute-long
teaser trailer
for Kimberly Peirce's update of Stephen King's "Carrie." Suggesting that the film could use some extra time to work out visual effects -- if not other matters entirely -- Sony has pushed the film from March to October 18th, clearly hoping to capitalize on the currently thin competition of this year's Halloween season.
In its place falls the currently poster-less, trailer-less thriller, "The Call" (formerly "The Hive"), about an emergency operator (Halle Berry) hunting down a serial killer. What little we know about it by now seems generic as all hell, but the presence of director Brad Anderson ("Transsiberian," "Session 9," "The Machinist") is heartening to say the least. "The Call" now opens on March 15th.
Are you sure you want to delete this comment?