Interview: Actor Richard Ayoade of 'The Watch'
On pauses, being British, not being famous, secrets and 'Full Metal Jacket'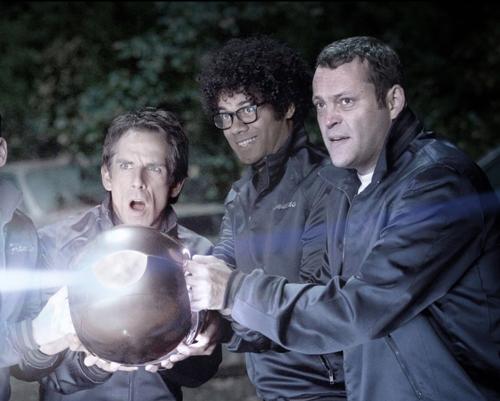 With his shock of hair atop his gawky frame, Richard Ayoade couldn't possibly look more British. But the actor, fortunately, is, and this helps him immeasurably in this role as Jamarcus, a divorcee who joins in the fun when Ben Stiller, Jonah Hill and Vince Vaughn form "The Watch." Ayoade is best-known here, if at all, for his direction of "Submarine" and his hilarious work on British TV comedies like "The IT Crowd." Under director Akiva Schaffer in 'The Watch," however, Ayoade comes across more as a secret weapon than an unknown quantity ...
MSN Movies: You were saying at the film's press conference rather hilariously but not without a note of truth that your wife had been making fun of you. Her joke was that you looked as if you had won a contest to appear in a film with Mr. Stiller, Mr. Vaughn, and Mr. Hill. I'm really curious about when you have an actor who is very much a wild card, or a straw that stirs a drink like you are here: How exactly did you come onboard?
Richard Ayoade:  I have no idea, really. I think someone must have dropped out at the last minute. Also, I'm very cheap. You know, and I think they probably would've spent all the cash budget on those three, and I'm as cheap as it's legally possible for an actor to be. So I think those two things were both very attractive to them.
But all kidding aside though, don't you find -- I mean you're a director, you're working on your second film, you obviously watch films a lot, and perceptively. Don't you find it weird when you can look at a movie and go, "Oh, that actor, I know them, therefore they will wind up being the mole in the secret service or the future lover of the unhappy fiancé"? Don't you find seeing an overly familiar actor can often kind of mar a film?
Do you mean, what, as in…
I mean, I'll give you a great example.  You know Sean Penn film's "The Pledge." You read the cast list on that poster, you go "Oh, that guy! Now I know who the killer is."
I think it depends. You know the kind of Hitchcock view of stars is that the audience immediately feels that they know them and they feel close to the character.  So you in a way can circumvent the loss of unnecessary and potentially tedious exposition because you know who James Mason is, you know who Cary Grant is, and you want to follow that person. And I think stars have a great value in films, and it's still the first question anyone asks. If you say that you're involved in a film or something people say, "Well, who's in it?" And I think people do go to see certain actors in films. And that I think is also part of the pleasure of seeing it.
Absolutely. But is not part of the potential pleasure of this audience that they literally don't have any previous expectations of you?
I think anyone who hasn't seen me is in a state of bliss -- that can only be ruined by seeing me. So yeah, I mean, I think people's pleasure levels will be extremely high because they can expect anything and only later see the disappointment.
Obviously you're familiar with Mr. Vaughn, Mr. Stiller, and Mr. Hill from some or all or a few of their films. When do you have the biggest surprise about dissecting the public work from the co-star, the aspect of "Oh, this isn't just somebody I'm laughing at.  This is someone I'm working with, and there are blank"?
I don't know. I suppose I think most people feel that there's a separation between people's public persona and what they are like in their private life or life outside of acting. They were great and incredibly inclusive and welcoming, and they all work fast, but have an incredible facility and ability for what they do. So it's very interesting to see them work.
You've done an extensive amount of British television in England, which is not just television but also the English model where a season will be a limited number of episodes and perhaps or perhaps not come back. There's not that horrible American grind to make 22 episodes every year. What was the biggest change? I mean you've made a cameo in "The Bunny and the Bull" and what have you, and you've directed "Submarine." This is the first very large film you've been in. What did you discover from that process?
Yeah, well I've never been in a film for more than a day or two shoots so I don't know precise or so discovered because everything has its own set of parameters. So I just felt kind of fortunate to be in it, and somewhat incredulous. It's interesting to see something on that scale and how it's put together. I mean it's just really good for me to act, to remember how hard this is for when I'm directing.
How cultivated are the pauses you have in your arsenal? And it's one of those things where it looks like you're doing nothing, but it probably takes a great degree of certitude to determine exactly when the pause should end.
I really am doing nothing. I have a natural hesitancy so I don't know really. I tend, for some reason, not to get cast as confident people so I have to do great research for playing someone who is socially awkward and difficult to talk to.
When you were talking with Akiva, like you he's a director and he's got a very, very large toy chest with CGI and the suits and all the stuff required to make the plots come alive here. Were you sort of walking around keeping an eye wide open to pick up stuff you could use as a director or were you more focusing on "I'd really like to not be set on fire by this stunt"?
Well, it's a relief not to have responsibilities for all those things. When you're directing, you're trying to be objective and bound by a number of things.  And when you're acting you're completely looking at everything through the subjective lens of your particular task. And for me, directing is a lot easier than acting. And so I'm just trying not to get too much in his way and try to be not too demanding.  And it's so different in the kind of scale and scope to the kind of stuff I've been doing, and the stuff I do is not much. I mean we don't even have steady-cams and films for stuff.
Let me ask you this as a complete change of topic -- I mean, there's a perception that depending where you are geographically and socially in England this kind of a more laissez-faire attitude about certain forms of language. Was it interesting to note that your first big American film is an R-rated one instead of a more traditional, more monetizable PG-13? Was it nice to be able to go-all out in that fashion if the mood struck you?
Well, the rating system is sort of a mystery to English people. We read about in film magazines and things, but there isn't anything that's that comparable because we have a 15 and an 18, and I imagine this would probably be a 15, I suppose in England. So you don't have that think where by you know a four year old can go with an adult to see this film. It's a very different thing in England. Comedies all tend to be 15, or most comedies would all be in the 15, so it didn't seem that different to me. And I guess for quite awhile now, you know, that being R-rated thing, I guess "Wedding Crashers" is almost the norm in a way now.
What was the most abnormal day of shooting? What were you not ready for?
It's quite strange to me being in a scene with R. Lee Ermey, you know. So, that was odd.
Was happy childhood memories of watching "Full Metal Jacket"?
Well yeah, exactly. That was pretty odd. You know, I'm a big Kubrick fan so to me that was one of the most exciting days. I could just ask him about Kubrick all day.
Did you actually do that, or were you too terrified that he might yell at you?
No, my love of Kubrick overcame that fear so I just annoyed him all day.
When it comes to being a really great comedy, what to you, what's your personal comedic sense is the funniest film ever made?
Oh gosh, I don't know.  I think "Cameraman" by Buster Keaton is pretty great, and I think "Spinal Tap" and "Sons of the Desert." I don't know. My favorite Woody Allen film would probably still be considered somewhat dramatic as well. You know, "Husbands and Wives" is very funny, but, I don't know… Marx Brothers…
Aside from "The Watch," which film opening this summer have you most been looking forward to as part of that big, broad tradition of summertime film going?
Oh gosh, I'm terrible at keeping up with new films because we've been filming this film, and so I haven't -- I mean, I'm not aware of anything that exists in the real world as was still filming. So I doubt I'll get to see anything. What's coming out?
We're just going to completely abandon this because now I feel like…
What I'm really looking forward to is "The Master," the Paul Thomas Anderson film.
Yea, that's not going to be a summertime film, but yeah.
Okay, that's the film I'm looking forward to.
Do you tend to sort of lean in a bit more closely at the end of the year when the Oscar contenders come out to see what the high art is as opposed to sitting out in the summer so you can eat more popcorn?
I mean, like the summer because I don't like the heat. I like being in air-conditioned cinemas. So I like that stuff and yea, I don't have any kind of some high-art, low-art sort of dichotomy. And we don't get those films at Christmas, anyway. We get them afterwards because you know we're back in England.  So we get them when you've done with the print and they're all ragged. So kind of January/February is a good time for us for all of those films.
Breaking news  -- English film lovers forced to subsist on damaged comma late American second-hand…
Yeah, can you just give us new prints in January? That would be good.
Fresher prints in January in general? Or anything specific?
Yeah, particularly "The Master." Just make sure the prints are good when they come in.
I'll get right on that down at the Embassy.
("The Watch" opens this Friday.)