TIFF Review: 'Anna Karenina'
A classic novel gets a new-school interpretation. But does it work?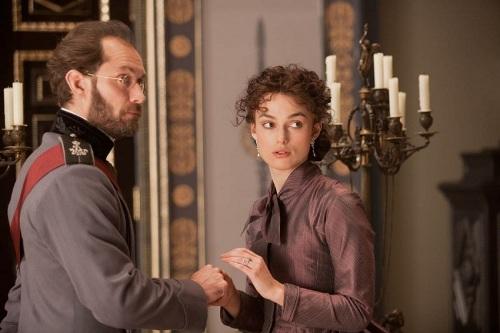 Rating: 3/5
Directed by Joe Wright -- of "Atonement" and "Hanna" and "Pride and Prejudice" -- this "Anna Karenina" is less based on the famed Tolstoy novel of life in Russia, written in the 1870s, than it is inspired by it. Here at the Toronto International Film Festival, reactions ranged from sighing ecstasy to shrugging dissatisfaction; as for myself, I could see the point both had. At its best, Wright's film knocks the dust off of Tolstoy with evocative, visually splendid scenes and swooning, rapturous dance sequences; at its worst, it comes off as the worst of both Bertold Brecht and Baz Luhrmann. Set on a stage in a theater like some bizarre metafictional production that encompasses itself (we don't get to a real exterior shot for the first 30-40 minutes), Wright's approach will have some applauding how its anti-theatricality and staged staginess strip the mold and sediment of time and sentiment off Tolstoy's novel; others will find the invention and excess off-putting and irreverent. And thanks to director Wright, both may be right.
The plot is pure soap opera; Anna (Keira Knightley), intervening in the sad affair her brother Stiva (Matthew Mcfayden) is having, is delighted to be caught up in Moscow's social life, away from the staid and somber St. Petersburg world of her much older politician husband Alexi (Jude Law). While there, she's drawn to Vronsky (Aaron Taylor-Johnson), an officer and a gentleman. When the affair begins between them, it cannot be stopped.  And when the affair between them is discovered, it cannot be allowed. Wright knows how to handle plots like this -- see "Atonement" -- and playwright Tom Stoppard's script adaptation cuts down on bulk so the story can move faster.
At the same time, though, Anna is, regrettably, the least interesting character in "Anna Karenina," and the conceit of the film being told mostly in a theater is both majestic and wrongheaded at the same time. A scene of the landowner and heartbroken lover Levin (Domnhall Gleason) cutting hay along with his workers, silver scythes flashing through an infinite abundance of amber wheat, is a stunning vision; at the same time, I mention it specifically because it was one of the few scenes in the film that spoke of Russia, of that vast and mighty land. Wright's decisions can often pare scenes down to true and fresh feeling, but it can also  reduce scenes to one of Max Fischer's productions from "Rushmore." The dancing and musical sequences can evoke the classic splendor of Powell and Pressburger in "The Red Shoes" or "Black Narcissus," but they can also verge dangerously into the sequined slapdash silliness of "Moulin Rouge."
But a film of a classic novel that does not simply preserve it lifelessly in immobile sepia-toned amber to solely hurl costumes and dialogue re-typed exactly from the book  at the audience is rare, and worth celebrating. Wright's approach may occasionally go off the road onto the rougher gravel, but he always wrests the wheel back towards smoother and more direct forward motion.  
All the performers are superb -- with special note to Gleason and McDonald -- and the ensemble works together smoothly, and if Stoppard's script  seems to have more interest in clever quips than moving scenes, it is still strong and strange and never corset-bound by the tight and age-tugged strings and boning of its past and legend. Wright's vision is the film, here, and some will declaim it the far-seeing work of a futurist and others deride it as the myopic mutations of a shabby stylist with no understanding of the actual book. Trying to make the past live is always a dangerous task in art, but that's because it's so infinitely rewarding when it succeeds. Where it isn't good, Wright's film is new, and that's worth thinking about; where it is good, "Anna Karenina" turns a book you dozed through in high school into a fever-dream of feeling and love.
("Anna Karenina" is set to open in November here in America; does Wright's approach sound like something you want to see?  Tell us on MSN Movies Facebook and MSN Movies Twitter.)