Warner Brothers to Make Biopic of 'Pontius Pilate'
Add this to the ever-growing list of in-development Biblical epics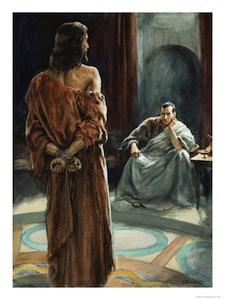 Promising some sort of weird hybrid between "Gladiator" and the world's most boring Sunday school sermon, Warner Brothers has reportedly purchased "Pontius Pilate," a spec-script biopic of the man by "Woman On Top" screenwriter Vera Blasi. The film would ostensibly tell the story of how Pilate came to power in ancient Judea, somehow got in way over his head, and then totally messed it up by allowing Jesus to be crucified. 
The film joins a growing list of biblical epics in various stages of production, including Darren Aronofsky's "Noah," Steven Spielberg's Moses biopic "Gods and Kings," Ridley Scott's Moses biopic "Exodus," and Paul Verhoeven's "Jesus of Nazareth."
According to
Deadline
, Vera's script puts an interesting spin on the crucifixion tale, combining the action elements of "Gladiator" with the political soap opera of Pilate's long rise to power and prominence. Not having read the script — ahem, Warner Bros., you listening? — we'll just have to take their word for it. Until such a time as the film comes out (or someone happens to e-mail us a PDF copy of its screenplay), we'll try to refrain from judgement and otherwise remain guardedly optimistic.