Interview: Tyler Perry of 'Alex Cross'
Actor. Director. And member of both the Academy and Starfleet ...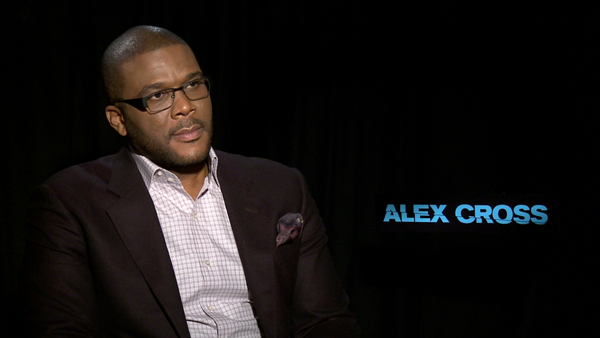 After success at the box office with self-created broad comedies and dramas, Tyler Perry is trying something new --  taking on the title role of "Alex Cross." Based on James Patterson's best-selling series character, Cross is a psychologist and cop -- in this film, chasing a hired killer through a ruined Detroit. We spoke with Perry in Los Angeles about training, stepping into the title role of a franchise he respects, and the questions only he can answer: Which is cooler, being a member of the Academy of Motion Picture Arts and Sciences ... or Starfleet?
MSN Movies: You've had such success as a performer, as a writer, as a director ...but in comedy and in drama; people don't often get to jump tracks like this in Hollywood. When they came to you and said, "We want you to be a crime-solving psychologist," did you have a moment of looking around and going "Me?"
Tyler Perry: I didn't have the 'Me?' moment. I had the moment of, "Wait a minute. Morgan Freeman did this, and I'm not doing anything that Morgan Freeman has done and done well." The man played God in a movie. You don't go behind him trying to pick up a role.
Is that lower-case "h" or capital "H" on 'him' when you're talking about Morgan Freeman?
Right? Capitals all around.
Right.
But what intrigued me about the character is the amount of the (character) arc and all he goes through, the emotions. He's a family man. He loves his kids. Then he goes through this tragedy. You see him at work being one thing, then by the end he's this lion that's been unleashed that has to be tamed within himself. That's what was so intriguing about playing this role is having an opportunity to share all of those different moments on screen.
Bing: Krav maga l Tyler Perry
A lot of the times dramatic and comedic actors get in films like this and they don't realize how much running is involved. I mean, you did training for this.
Yeah.
You had to. Krav maga ... what else did you do to get in shape?
Well, I already work out all the time, like run and do all those things. But krav maga was, let me tell you. As much working out as I was running, I could run three miles and have a great run and everything's great and lift and work out in the gym for two hours. When I first did the first day of that, I set an hour appointment; I couldn't make it 10 minutes. It is that intense because it's mind, body, and soul all together. But that was the most physical training that I did. I rode along with (the) City of Atlanta Police Department, their homicide unit. I also spent time with profilers looking at cases of serial killers. All of those things helped me to really prepare and get an understanding of who Alex Cross was.
Did you talk with James Patterson to get any special insight or guidance? I mean, he is one of the most popular authors of our time. He knows how to spin a good yarn.
Yeah.
Did you talk to him about the character?
Absolutely. There's no way I could've taken this on, I wouldn't have even attempted to, without his blessing and approval. And when I realized that he was going to be there on set, hands on, very involved --that made all the difference in the world because I didn't want to go and try to create a character without having him put a stamp on everything. So we had lots of conversations about who Alex was, and I think it all turned out very well.
As somebody who's done so many different things and done them well, is it easy for you to go in neutral and not direct a scene while you're acting it?
Oh sure.
You don't step back and do that?
Oh sure. I'm also a guy who ... because anybody can lead. That's part of being a good leader, is to know how to follow. So I know how to sit back, I know how to follow, I know how to get in the back seat, and I'm very comfortable as long as the driver knows where he's going. And Rob clearly knew where he was going, so it was nice. I was enjoying the scenery while he was driving.
In 2009, you got to be both in J.J. Abrams' "Star Trek" as a member of Starfleet and inducted into the Academy of Motion Picture Arts and Sciences. Of those two, which is cooler? Really, which is cooler?
That's a question that nobody has asked of me before. I've got to tell you, hanging out with the Kobayashi Maru and those guys was ... that was pretty interesting. That was pretty interesting.
When you look around at a big film like that or a film like this and you see the mechanics of action filmmaking, which I'm sure are very different from the stuff that you do ...
... Certainly ...
is it something where you look around and make notes and going, "I could do this"? Do you think about being a Kenneth Branagh who goes from drama to action or…
No, no. I sat there thinking, "Let me leave this to the guys who do it and do it well. Let me stay in my lane, and until I learn more about this I'm going to let them handle it."

Can we at least hope for more pyrotechnics in the next Madea film?
I don't know about that. It changes all the budgets ...
For more on "Alex Cross," check out MSN's video interview with the cast and creators: 
("Alex Cross" is in theaters; for more information about movies, check the MSN Movies Facebook page and the MSN Movies Twitter feed.)