Interview: Morten Tyldum, Director of 'Headhunters'
Don't wait for the American remake, go see this stylish, brutal, funny Norwegian thriller now!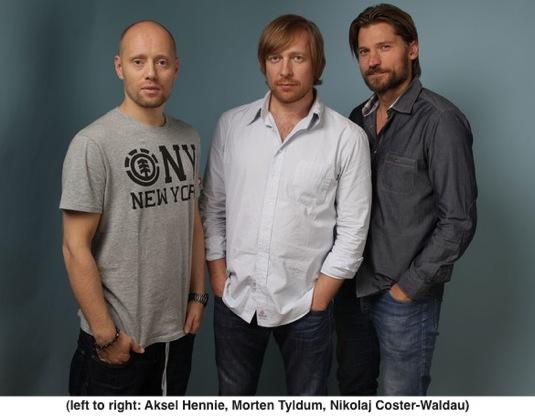 Remember when Ingmar Bergman's films were the only movies we'd ever get a chance to see from Scandinavia? Thanks in part to Stieg Larsson's Millennium trilogy, there's now a lot of interest in the taut thrillers coming from that part of the world. Following Larsson's death in 2004, another Scandinavian author, Jo Nesbø, has picked up the slack with his popular crime novels (including the Harry Hole series) that have been translated into over forty languages. One of Nesbø's stand-alone books has now been made into a stunning, funny, and incredibly suspenseful film by Norwegian director Morten Tyldum. "Headhunters," starring Aksel Hennie ("Max Manus") and Nikolaj Coster-Waldau (HBO's "Game of Thrones") has become something of a sensation in Norway—one of that country's most successful films.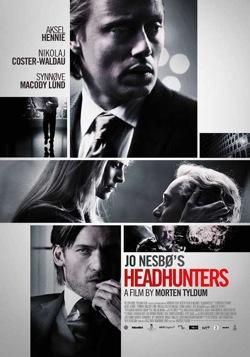 The less you know about the story going in, the more fun you'll have on this violent but very entertaining thrill ride. Hennie plays Roger Brown, a charming scoundrel and one of the most successful headhunters in Norway. Roger lives a life of luxury well beyond his means with his beautiful wife, Diana (Synnøve Macoldy Lund). To support his lifestyle, he steals expensive art on the side, but he's still drowning in debt. When Diana introduces him to a handsome businessman named Clas Greve (Coster-Waldau) who owns an extremely valuable painting, Roger decides to risk everything to get his hands on it, thus putting in motion a deadly game of cat-and-mouse that has to be seen to be believed.
I spoke with director Morten Tyldum by phone from Norway.
MSN Movies: How concerned were you with being faithful to Jo Nesbø's book?
Morten Tyldum: When I read the book, I just fell in love with the character. Roger Brown is such a unique guy. He's terribly flawed, and someone who actually hates himself, that's what drew me into the story.  Adapting it into a film, we had to create some of our own plot twists and turns. I also wanted the film to be more romantic. When you're adapting a book for the screen, you want to keep the essence of it but at the same time you have to free yourself. I sat down with Jo Nesbø before we started and thanked him for allowing me to adapt his wonderful book but I also told him the story has to become mine now! He completely understood and was great about it.
As you say, Roger is a character with many flaws, some of them quite over-the-top! And yet still we end up rooting for him. Were you concerned about keeping the audience on his side with all his reprehensible actions?  
We talked about this a lot. Especially the scene in the opening credits when he dumps his mistress. We thought, is that too early, is everybody going to hate him? But I wanted to keep it in and have his insecurities and flaws on view right from the beginning. I wanted to make a character that you have to struggle with. There was a line we cut from the film because we didn't think it was necessary where Roger says, "I'm a weak person, I'm fundamentally not a very nice person!" That's how he viewed himself, he was very open about it, and there's something very interesting about that!
I know you've worked with Aksel Hennie before. Was it always your plan to cast him in this film?
Oh yes, he was at our very first meeting. I was dead-set on him playing Roger because he has that beautiful mix of strength and vulnerability. It's easy to like Aksel, he has such charm and charisma, so he can play an asshole and get away with it! The part of Roger's wife, Diana, was more of a challenge. We finally chose Synnøve who was not an actress, she never acted before in her life. She's actually a movie critic in Norway!
Who knew? I thought she was perfect in the part.
Yes, and as people have said, she's probably the most attractive film critic in the world!
Nikolaj Coster-Waldau was also perfectly cast as Roger's nemesis, Clas Greve. How did he get involved?
I had a meeting with him in Copenhagen. He was just what I needed in contrast to Roger—taller, more handsome, more educated, perfect in every way! I needed an alpha male who was two steps up from Roger.
Yeah, Coster-Waldau is every insecure man's nightmare!
Exactly! And Nicolaj is such a wonderful actor to work with. He did our film while shooting "Game of Thrones"—he'd go back and forth from Norway to Ireland. And, unlike that Hollywood production, we were a very small Scandinavian film, we didn't have trailers or any luxuries for the actors! But he was so professional and such a pleasure to work with.
Do you think there's anything in the story that American audiences might not get?
Just a few little things like the relationship between Denmark and Norway. Clas is Danish and Roger makes fun of his language. There are certain words and pronunciations that Danish people use that Roger enjoys mocking to try and feel better about himself.
Even though there's a lot of humor in the film, there's also an insane amount of blood and gore. Did you ever stop and think, "Oh, God, I've gone too far, I'm going to lose the audience!"
It was more my producers who worried! (Laughs.) For me, it was all about where Roger was emotionally. I wanted some of those scenes to feel as intense for the audience as they were for Roger and I let Roger's state of mind dictate how the scene should play. Sometimes, when he was feeling confident, the scenes were polished and smooth with snappy music, but other times, when Roger's world was falling apart, everything became more bloody and choppy. But to be honest, I don't think that much about the audience while I'm making a film, I'm sort of in my own little bubble, the only thing that matters to me is the story and the characters.
There's so much intense action in this film. Is it true that Aksel Hennie did all of his own stunts?
Aksel is a fantastic physical actor and you know, we don't really have professional stunt people in Norway, that's just an industry doesn't exist here! Aksel got so beaten up on this film, he was burned, he dislocated his shoulder, he had cuts and bruises everywhere, he lost a lot of weight. We shot in November in Oslo so it was really cold and wet, and he spent a lot of time half-naked covered in shit or blood or water! It was such a tough physical challenge and he did a wonderful job. There's a knife fight between Roger and another character and they just did it, falling over tables, smashing into walls, Roger strangling her, and so on. They were just great actors who really went for it, and in a way I think that reality helps the story.
The first thing everyone who sees "Headhunters" says is that they hope it doesn't get remade as an American movie, it'll never be as good as the original. But, of course, an English-language remake is already in development! What do you think about the tendency for American studios to redo these Scandinavian films so quickly?
I think it's flattering that they want to remake it, and I have the deepest respect for Summit, the studio that's doing the film. I've had a few meetings with them and I'd be happy to read the script but I hope they do something completely different, I think it would be a mistake for them to try to make it the same. I think they're going back to the book and hopefully they'll be inspired in a different way that I was. I hope they'll be brave enough to make Roger as flawed as he needs to be.
Well, I can promise you one thing—they won't let the American actors do their own stunts! I was excited to hear about your first English-language film that's coming up called "What Happened to Monday?" about identical septuplets in a future dystopian world where only one child is allowed. That sounds really interesting.
It's a great script. We're in the middle of casting it right now we should have that nailed down in a few weeks. I'm looking forward to getting to work on it!
("Headhunters" opens on Friday, April 27, in select cities. You can read our Fantastic Fest review of the film here.)

Are you sure you want to delete this comment?