More of Jane Fonda as Nancy Reagan
The Oscar-winning actress is tweeting photos of herself in costume from the set of "The Butler"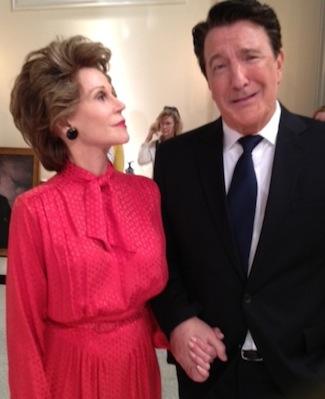 Jane Fonda, the two-time Academy Award-winning actress, is quite active online, both with her blog and her Twitter account. Today she tweeted another photo of herself as Nancy Reagan, direct from the set of "The Butler," the upcoming film by Lee Daniels ("Precious") based on the true-life story of Eugene Allen (Forrest Whitaker, with Oprah Winfrey playing his wife), a White House butler who served eight Presidents over three decades. Many conservatives were shocked by the casting of Jane Fonda as the former First Lady, but as we reported last month, Nancy Reagan herself is apparently quite pleased with the choice. That's Severus Snape holding Ms. Fonda's hand, British actor Alan Rickman, as our nation's 40th President. Despite her liberal leanings, I think Fonda is rocking that Republican red!

Bing: Jane Fonda | 'The Butler'
Jane Fonda is clearly in a new phase of her acting career. The 74-year-old icon recently starred as an aging hippie in Bruce Beresford's "Peace, Love & Misunderstanding," appeared as a Ted Turner-like character in Aaron Sorkin's HBO series, "The Newsroom," and will be seen in the upcoming "Better Living Through Chemistry" with Dame Judi Dench, Sam Rockwell, Olivia Wilde, and Michelle Monaghan. "The Butler," also starring Robin Williams as Dwight D. Eisenhower and John Cusack as Richard Nixon, will be released in 2013. I wonder if the real Nancy will be persuaded to walk the red carpet with her unlikely screen counterpart.
Are you sure you want to delete this comment?