New Character Posters for 'Lawless' Make True-Life Bootlegging Tale Look Like a Comic Book Movie
(It's really not.)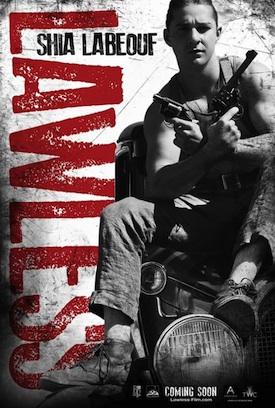 Perhaps everyone behind John Hillcoat's "Lawless" (formerly known as "The Wettest County," and based on Matt Bondurant's 2008 book, "The Wettest County in the World," based on his own family's exploits) was just so excited that long-wrapped film is finally getting a release
and
a premiere at Cannes that they forgot to craft posters for the film that look
anything at all like the actual film.
Or everyone on the film's marketing team just really, really liked "The Avengers." Or these new character posters are a cruel joke. There's pretty much no other reason for why the true-life tale about a family of bootleggers in Prohibition-era Virginia look like something ripped from the pages of Frank Miller's "Sin City." Yow.
Bad marketing aside, the film follows three Bondurant brothers (Shia LaBeouf, Tom Hardy, and Jason Clarke) as they bootleg and rumble their way across Franklin County, Virginia. Familial complications, love interests, rival 'leggers, and the long arm of the law all threaten the Bondurants' livelihood...and their very lives. The outstandinf cast is rounded out by Gary Oldman, Jessica Chastain, Guy Pearce, and Mia Wasikowska.
The film recently premiered at Cannes to mixed reviews, and it will open in the U.S. on August 31. Check out the rest of the new posters, thanks to
/Film
, after the break.