Interview: Jamie Chung and Dave Bautista of 'The Man With the Iron Fists'
Fights and faith and work-related injuries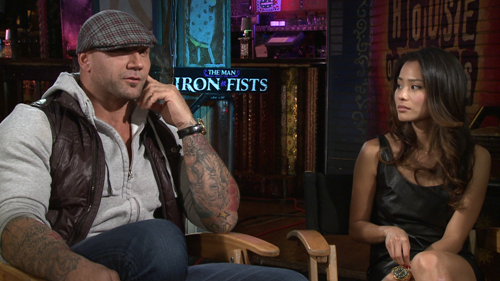 She's a young-but-seasoned veteran of reality TV and movies; he's an ex-WWE star turning to MMA, with broad shoulders and a broader smile. Jamie Chung and Dave Bautista have nothing in common, at first glance -- aside from, of course, "The Man With the Iron Fists," the new crazed martial-arts mash-up from director The RZA. We spoke with Chung and Bautista in Los Angles about fight scenes, leaps of faith, fighting with the director -- literally -- and much more.
MSN Movies: Miss Chung, when somebody says to you, "We'd like for you to be in a martial arts epic; you will be playing a courtesan, your love interest is also the director, who is a hip-hop genius, and the co-writer is a titan of horror," do you kind of roll your eyes and go, "How does that make sense?" What did it take to get you on board?
Jamie Chung: I had a meeting with RZA, and he explained what he wanted me to do, and I was like ..."I'm in!" (Laughs)
And that was it?
Chung: That was it.
Bing: Jamie Chung l Dave Bautista
He conveyed the vision to you that simply?
Chung: Yeah. Yup. Being familiar with his music and being familiar with the fact that he love kung fu, raps about it all the time, you know. For someone to have so much enthusiasm for a particular thing, they're going to make, they're going to do it justice.
Yes, but I'm enthusiastic about hockey and I can't play it because I'd lose all my teeth.
Chung: (Laughs)
Did you get a sense that he had the directorial chops to deliver on a complicated period piece with of plenty of fight scenes? He convinced you he could do that?
Chung: You know, knowing that he doesn't have the experience, but I had absolute faith in his vision, and I knew that he could execute so there wasn't much hesitation.
Mr. Bautista, you play the massive, hulking Brass Body. Is it fun to just flat out play a bad guy? Just show up, kick people's heads in, and take names?
Bautista: Uh, yeah. (Laughs)  I always like going, you know, when I was wrestling, I liked being the heel. I like being the bad guy. It's always more fun. The characters are more interesting, a lot of layers.
They get to make great entrances?
Bautista: Right.
Chung: (Laughs)
The fight choreographer Corey Yeun is a legend of course, but you've done professional wrestling, you're entering the MMA, did you sort of figure out how those styles best meld to have your style of work come in through his?
Bautista: I figured it out with his help, and I couldn't have figured it out without his help. Especially all this stuff-- the stuff of pro wrestling -- doesn't translate into films. And also a certain style of fighting that they wanted  for this film especially with my big fight scene with the -- when he's The Man With the Iron Fists -- I had no idea. I had no idea how to make the scene work and Corey stepped in.
When you're doing the fight scene, a huge climactic fight scene with your director, do you think, "If I mess this up, the shooting gets a lot longer. If I break the director's neck, we're in a lot of trouble?"
Bautista: No, no. It's one thing that didn't happen; if there's one thing I bring with me from professional wrestling, it's "Take care of the guys you're working with.
 If anything, he beat up  me -- beat the hell out of me. (Laughs)
I mean when he's wearing the iron fists, were those actually metal? Were they plastic?
Bautista: They were plastic, but they had to change them after the first day because the material was almost like sandpaper. So every time he hit me, my skin was just raw.  It was just tearing me up so by the end of the day I was just scratched up and bleeding and bloody. So they really had to change the material, so they came back with different gloves the second day.
If you said to me, "We can punch you with fists made of metal or fists made of scratchy plastic," I would still say neither.
Bautista: (Laughs)
When you step on set, this movie has amazing production values that kind of re-creates a world that existed in it and turns it into a world that never quite did. When you walk on set, with the costumes, the furniture, and even better the drapes, do you think, "Wow, this is going to look great?" Or do you see the sandbags and wires? Is it quite not that magical when you're making it?
Chung: Oh, gosh. No, it was absolutely stunning and beautiful, but was crazy to see like, the shell of the building was there. You know, it's a set. But for them to build the interior, when they bring all the fabrics in and ... the production designer did a really great job. They make it into a beautiful, visually pleasing, you know.
Bautista: ... Like you really got a sense, just by looking at it -- not even seeing it on film --  you really got a sense of how amazing it was going to look. But it just looked like were in ancient China. And they did it fast.
Chung: Overnight.
Bautista: Yeah. It was just beautiful. the colors and everything ... it was just awesome.
For more on "The Man With the Iron Fists," check out our video interview with the cast: 
 ("The Man with the Iron Fists" opens Friday; for more on movies, check the MSN Movies Facebook page and the MSN Movies Twitter feed.)